When building a brand in not an option but a necessity for a business trying to take off, reading books related to business and management is not just a habit but a compulsive disorder. The book titled 'Brand Like a Rockstar' by Steve Jones is one such read that is top recommended for anyone owning a startup or a business – someone who is trying to build a brand or scale up an organisation. This book will be loved by marketing and advertisement agency personnel as much as it will be adored by Music fans across the world. To give you a quick overview, 'Brand Like A Rockstar' is a book based on the fact that the top music bands, superstars and musicians on the globe have made it big through some really cool branding strategies. Every rock star we know today has used some breakthrough marketing that made them so iconic brands.
In this book, author Steve Jones has been able to cook a great story of how anyone can build a brand by adding ingredients from the little known stories from AC/DC, The Beatles, The Grateful Dead, Kiss and other famous bands to a sound and sorted advice for running a successful business. What he has delivered in this book are stories that inspire you to venture into everything from building a logo that becomes iconic to merchandising and having your business resound a strong message to the customers or users and the public at large. What the author illustrates in the pages are some action items that you can implement in a business and inculcate practices that let you build a brand and not just another company.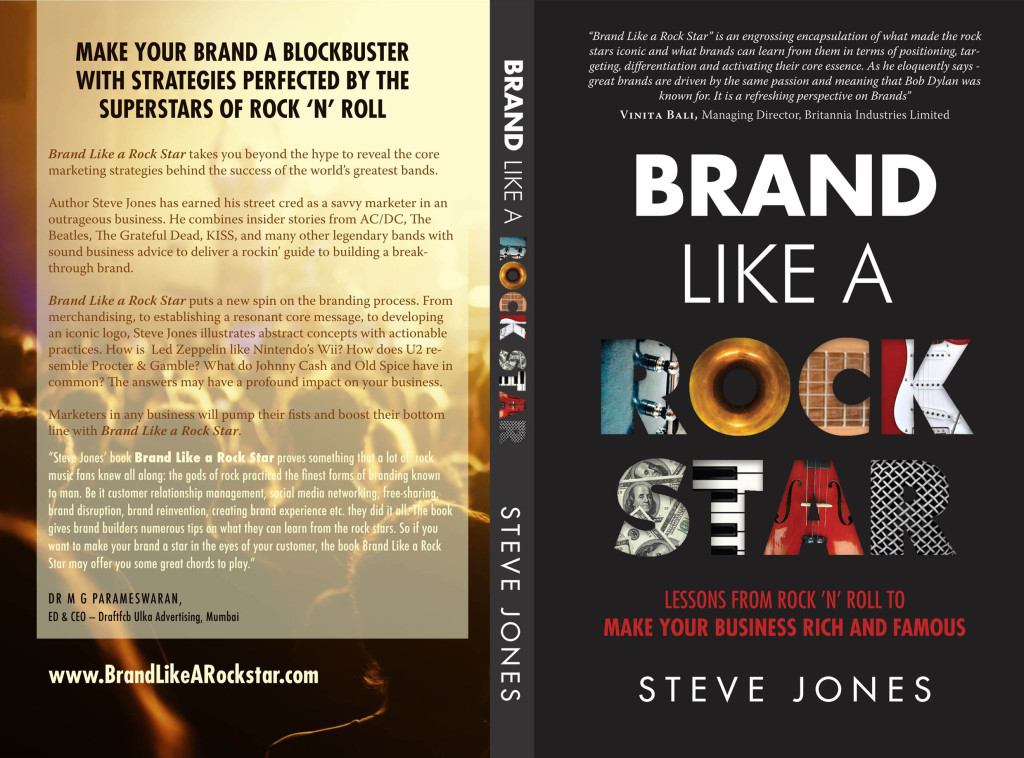 Steve Jones has presented some abstract ideas like – How is Led Zeppelin like Nintendo's Wii? How does U2 resemble Proctor & Gamble? What do Johnny Cash and Old Spice have in common? The answers to those will leave you perplexed on how little most people thinking when it comes to branding and how closely the story of music superstars is woven into the very fabric of our business. The reader of 'Brand Like A Rockstar' will have a lot to learn here from – how you promote your own products, how your company publicly reacts to bad news to how to keep your product and image consistent. Those who don't care much about business building and branding can enjoy the book for its countless stories and music history facts that are presented in the book from time to time. The way the author has managed to connect those stories with real world companies and marketing campaigns is what is really worth a read.
In a rather interesting chapter about KISS, that I really had a good time reading, you will learn why and how they became popular not by being better than others, but by being different. A rockstar is always a someone larger than life for the common man. People love rockstars for their appeal, the zest and emotion that they evoke in their fans and followers. But this book isn't about loving rock music. As you flip through the book, you'll find yourself relating your own business with the success stories presented, even if you're not such a fan of the creed as such. The book is full of modern real-life examples that are super relatable and practical.
The book is highly recommended.
Rating – 4/5
About the Author:
Author Steve Jones has earned his street cred as a savvy marketer in an outrageous business. He has worked in the music industry in the US, Canada, and the Caribbean for nearly 30 years, giving him a front row seat to the rise – and sometimes fall – of rock & roll's greatest names. From ABBA to Zeppelin, Steve has seen and heard it all, and puts that experience to use to help grow your business in his book "Brand Like A Rock Star".
Based in Halifax, Canada, Steve is a popular blogger and in-demand speaker on the topics of music, branding, and marketing.