A man of values who cannot compromise with his principles is a sad man in a pitiable state. Firstly, Satyakant (Mithun) unknowingly kills a boy, and his elder son, in order to protect his father's name, takes the blame upon himself. The father, ignorant of the crime he's committed, throws his elder son out of his house for the "crime" he's committed.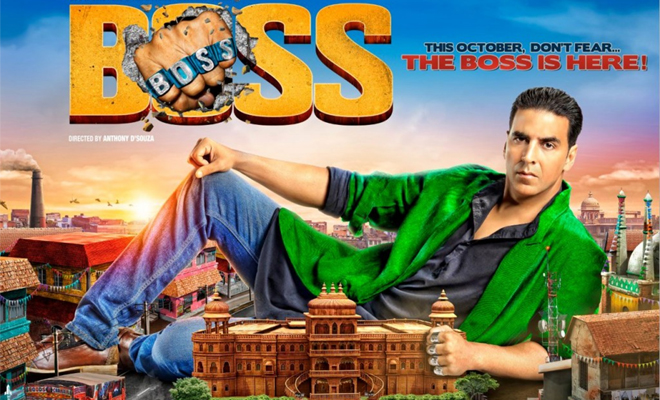 The delinquent after completing his jail-term moves to a different city, and seeks shelter in Big-Boss's (Danny Denzongpa) wings, who acts as his father, mentor and guide and presents the boy as 'Boss'. Boss (Akshay Kumar) is a THE guy who gets everything done- be it stealing or taking someone's life. gets a contract to kill Ayushmann Thakur (Ronit Roy), a corrupt cop who made everyone's life hell. Boss takes up cudgels against Ayushman to save the people and amidst this journey, he gets a contract to kill Shiv (Shiv Pandit) who turns out to be his long-lost darling little brother, who has fallen in Ishaq Wala Love with Ankita (Aditi Rao Hydari), a pretty damsel and daughter of Ayushmann. But the bad cops stands a villain in this love story, and plans to marry his daughter to a corrupt minister's son. The minister's son wants Shiv out of his way, for which he seeks out Boss. Our protagonist is now webbed in emotions and sets out to make everything right in his family- and following events are veined in unrequited love, redemption, emotions, betrayal and of course, violence.
It's not new for a desi Robin-Hood to fight against a corrupt system to save the innocent inhabitants, and this story is same old same old as far as the concept is concerned. Also, this film is a dished out with lots of cliched Bollywood mainstream masala and the storyline is way too monotonous. A remake of the South film Pokkiri Raja, Boss fails to impress overall. There were several sequences in the film which were over-done. Akki fails to deliver that Khiladi-impact but his comic dialogue delivery, he has always been commendable. A lot could've been invested and reaped out from Kumar, but his talent goes wasted, as has been a case with several of his latest films. Aditi is sweet and spicy showing off her toned bikini-bod and Ronit Roy was good as a cop while Shiv Pandit of Shaitan fame is promising. Remaining actors had little to do but fitted in well.
As for the direction, Anthony D'Souza has slightly improved upon his 'Blue' shoddiness in this action-comedy genre. The action sequences were nerve-stretching and there were moments when we actually enjoyed the film, but the best thing that happened to this film is music. Honey Singh's 'Party all night' ticks in as my personal favorite from the album.
Overall the film is a disappointment. So film aficionados out there, this movie is no creme la de le and could be given a miss. A mediocre affair indeed.
Overall Rating: 2/5