Audi A3, the highly anticipated hatchback, has launched in China at the Beijing International Motor Show. Launched as Audi A3 Limousine in China, it comes in two variants – 35TFSI (1.4 liter engine) and the 40TSF (1.8 liter engine). The basic variant's price is 279,800 yuan (Rs 27.08 lakh), while the other variant costs 334,300 yuan (Rs 32.36 lakh). This third generation Audi A3 is a bit roomier wit the following dimensions – 4,310 mm long, 1,966 wide, 1,425 tall and 2,626 mm wheelbase. The China-bound Audi A3 shall be launched in the latter half of 2014, and shall be manufactured by FAW-Volkswagen collaborative venture that even manufactures A3 Sportback. This A3 derives power off a EA888 1.8 liter TFSI engine that delivers a max power of 180 bhp and a max torque of 250Nm.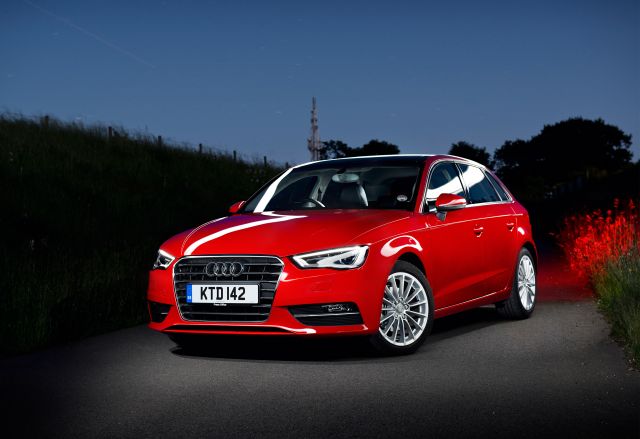 The India-bound Audi is expected to be launched sometime around August, and will feature a 1.8 liter TFSI engine under the hood that delivers a max power of 168 Bhp and max torque of 320Nm. To further bring down the marked price, Audi shall assemble the vehicle in India at its Aurangabad-based plant. Several celebrated features shall be removed on the basic version – including Audi's signature LED head lamp. Audi had displayed the vehicle in Auto Expo 2014.
Today, the Audi A3 was voted '2014 World Car of the Year' by judges across the globe. The judges comprised sixty-nine top-level automotive journalists from twenty two countries across the world, and Audi A3 emerged a winner against twenty three opponents.
Rupert Stadler, Chairman of the Board of Management of Audi AG, stated –
The Audi A6 was the first ever winner of this award and we are delighted that the Audi A3 has repeated that achievement by being voted 2014 World Car of the Year. The Audi A3 showcases Audi's technical competence in all aspects of car making, not least in the areas of lightweight technology, drivetrain, mobile infotainment and driver assistance systems. This major award win is an achievement that the whole company can celebrate.
Audi has to its name the most World Car of the Year titles. The brand has earlier claimed three World Performance Car titles, two World Car Design of the Year titles and an inaugural World Car of the Year title.