In search for a budget 3D printer? Olo's compact 3D printer priced $99 may just be what you need. At the given price, it's substantially cheaper compared to regular 3D printers, which go up to $299 or so. Olo beats this price as it makes your smartphone an essential element in the printing process.
Weighing under 800 grams with dimensions reading 17.2 x 11.5 x 14.8 cm, this is surely a tiny gadgetary. Even the printing volume is short at 400cc. The process is somewhat like this – you need to select the object that you want to print via the Olo app (available for iOS, Android as well as for Windows), and place your phone under a polarized glass sheet. The device then employs a photolithographic process over your phone's display to set the layers that need to be printed.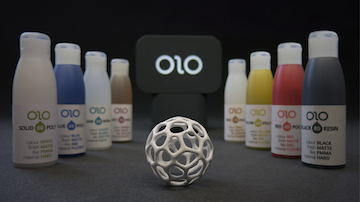 Using the app, you may scan objects, download shared designs and even make use of the 3D design tools for the printing. After printing, you just have to rinse the object under warm water and you're good to go. Olo offers a wide variety of resins for you to choose from. As per your requirements, you may cast hard objects, soft objects and they even offer castable resin to die gold or silver objects. You even have color options available to print, as well as a translucent option.
For more details on the Olo smartphone 3D printer, visit their Kickstarter page.