Transformer Alert! Technology giant Asus has floated The Transformer Book Trio. As the name goes the hybrid can take three different forms viz. desktop, laptop and tablet. Asus has tagged a price label of Rs.98099.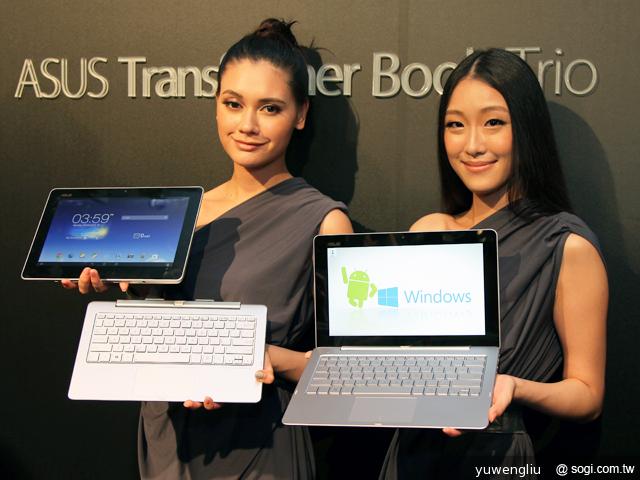 Asus' latest offering when docked to the PC station functions as a laptop/ desktop. When in laptop/ desktop mode the Transformer Trio is powered by a 1.8GHz Intel Core i7 processor. It runs on Windows 8 OS and packs 4GB of DDR3 RAM (1600MHz) with storage options of 500GB, 750GB and 1TB to choose from. The screen is 11.6-inch in size and is a full HD IPS (1920×1080 pixels resolution). Users can detach the monitor and voila it's now a tablet. Connectivity options include Wi-Fi, Bluetooth 4.0, USB 3.0 ports (two) and micro HDMI. This form of the hybrid sucks energy from a Li-Polymer 33Wh.
The tablet is powered by a 1.6GHz Intel Atom processor coupled with 2GB of RAM. It's equipped with two cameras. The camera on the rear side is a 5MP snapper with the ability to auto focus. It can capture videos in 1080p. The front camera is 720p HD camera. The slate from runs on Android 4.2 (Jelly Bean) OS. Onboard storage options are 16GB, 32GB and 64GB to choose from. Bouquet of sensors include G-Sensor, Gyroscope, E-compass and ambient light sensor. It's Bluetooth 3.0 for the slate. Other interface options are micro USB, USB 2.0, microSD acrd and audio jack. The 19Wh Li-Polymer battery fuels the tablet.
Laptop/ Desktop Mode-
–  Intel Core i7 Processor (1.8GHz clock speed)
–  Windows 8 OS
–  4GB of DDR3 RAM (1600MHz)
–  Storage options are 500GB, 750GB and 1TB
–  11.6-inch full HD IPS (1920×1080 pixels resolution) display
–  Wi-Fi, Bluetooth 4.0, USB 3.0 ports (two) and micro HDMI
–  Li-Polymer 33Wh battery
–  720p HD camera  
Tablet Mode-
–  Intel Atom Processor (clock speed 1.6GHz)
–  2GB RAM
–  Android 4.2 (Jelly Bean) OS
–  Storage:16GB, 32GB and 64GB
–  Primary Camera: 5MP auto focus
–  Secondary Camera: 720p HD camera
–  G-Sensor, Gyroscope, E-compass and Ambient light sensor
–  19Wh battery