Elections in 5 states including Delhi, does show some signs of change in the attitude of the masses. If trends (exit polls as they are called) are to be believed, the winds are clearly flowing against the Congress. Rajasthan, Madhya Pradesh, Chhattisgarh, Delhi and Mizoram underwent the elections that may well be called the dress rehearsal of what to come next year. The primary trends do make it more interesting but what really is more interesting the amount of eagerness shown by the voters to exercise their right to vote.
In almost all the states, one can see Congress is losing ground. The government at centre in spite of all its populist schemes is spelling doom on its state subsidiaries. The local leaders at state level Congress can always blame the centre for this debacle (?). The elections in Delhi caught everyone's fantasy, primarily because of the changed dynamics- a three way fight as opposed to same old two way tug of war. Here, everyone is eagerly waiting to see how Aam Aadmi Party (AAP) fairs. The India Against Corruption Movement had created a stir in the nation in 2011, so in a way it will be an acid test for AAP to see how much of a ground level support actually translate into votes. A three way fight can also lead to hung assembly which can impose Presidents' Rule over the Capital. It has to be seen which party- Congress, BJP or the AAM really get the majority and forms a government.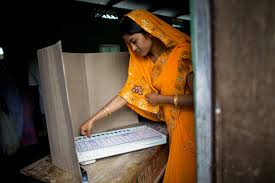 The elections in the other two states, Chhattisgarh and Madhya Pradesh were a traditional fight between Congress and BJP. BJP, being incumbent in both the states has shown good track record and are confident of returning to power. The incumbency may not affect the central Indian states, since they have started showing good GDP growth and have started attracting FDI's for the first time in their history, giving BJP the confidence that they can pull it off this time.
The scene is totally different in Rajasthan; anti-incumbency factor may play wreaking havoc for Congress and BJP are positive that it will again rise to power in the state. The results here can spring in surprises, but the balance seems to be shifting towards Congress. In Mizoram, ruling Congress and Opposition of Mizoram Democratic Alliance (MDA), comprising Mizo National Front (MNF), Mizoram People's Conference (MPC) and Maraland Democratic Front (MDF) are confident of their success. Here too, results will clear the situation.
The results can always spring surprises but one thing that should encourage the government is the number of people voting including the number of first time voters. The Election Commission has to be commended for conducting free, fair and successful elections. But, whatever may be results, the winners are clearly the people of this nation, for taking the road and utilising their holiday for choosing the people they want to be ruled under. Democracy is alive and kicking!