Afghanistan has often been THE site for comic-book wars, and Shamik Dasgupta's Virulents follows a similar trend, the parable stretched up a notch. A search party comprising Indian and American army men head over to a war-zone near Hindu Kush, Afghanistan, seeking out a lost patrol. Apparently the Indian Army and the American Army can't seem to make friends, and one of them is on a secret search mission, something the other party has no clue about.
But that's not the only problem.
Our boy-band here faces threat not from our conventional mercenaries, but from an unusual breed of vampire terrorists. The origin of these warriors is unclear, but we have a certain mention of 'a weapon of god' that supposedly has activated the vampire mode on these combatants. Further down the story there's a parallel drawn between these Virulents and a demonizing character from Hindu Mythology – Rakhtaveej (blood demon). He posed tremendous threat to the gods and every time someone from the God-team sliced him good, his spilled blood drops birthed many more clone demons thus adding to the gods' woes.
Gods 0 – Rakhtaveej 1
For the winning point, the Gods turn to Goddess Kali to help, and she wipes the blood-threat off the Earth by licking every single drop of blood from the demon with her incredibly large tongue. Will the goddess return to save the two armies from this situation?
The plot reminded me of The Rabhas Incident and The Strain, where an entire city needs to be quarantined as some mysterious biological agent is attacking humans and is turning them into some agents of chaos. Virulents has no mention of any virus, but an underground temple that serves as the place for the 'weapon of god'. Must say that the mythological detour made the plot interesting, even though it added very little to the story. Thankfully that part was covered quickly in three panels.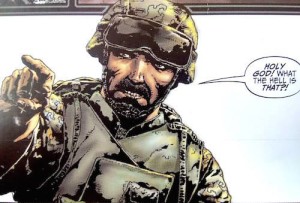 The artists beautifully bring out the panicky mayhem and Afghanistan's desert-like landscape. Other key point covered here included how a majority of Americans still perceived Sikh and their turbans, and how it was difficult for them to differentiate a Sikh from an Afghan or a terrorist ("..all ragheads are the same to me").
Graphic India's bonus horror tale here is titled Linger – a groom-to-be and the bride's brother head out on a road-trip that goes horribly wrong. Returning from the incident, the groom's guilty conscience doesn't let him get a minute of peace. But there's more than his conscience that's causing trouble here – something supernatural. An equally enjoyable read.
Overall Rating: 4/5
Buy the book from Flipkart –

or from Amazon – 
Subscribe To Indian Nerve