Taking Toyota Etios to a new level, Indo-Japanese joint venture, Kirloskar Toyota Motors launched Etios Cross, a new cross over vehicle between a Sports utility vehicle (SUV) and a Hatchback. Unveiled at the auto expo this year, Etios Cross is targeting the customers looking for a compact SUV.
The vehicle will hit Indian Markets with three engine variants and will cost between Rs 5.76 Lakhs to 7.40 Lakhs (Ex showroom Delhi). The petrol variant of Etios Cross will come with 1.5 litre engine giving a mileage of 16.78 Kmpl and a 1.2 litre variant with 17.71 Kmpl of mileage. The new cross over will also be available in a 1.4 litre diesel variant with D-4D technology with a good mileage of 23.59 Kmpl and will cost Rs. 6.90 Lakhs.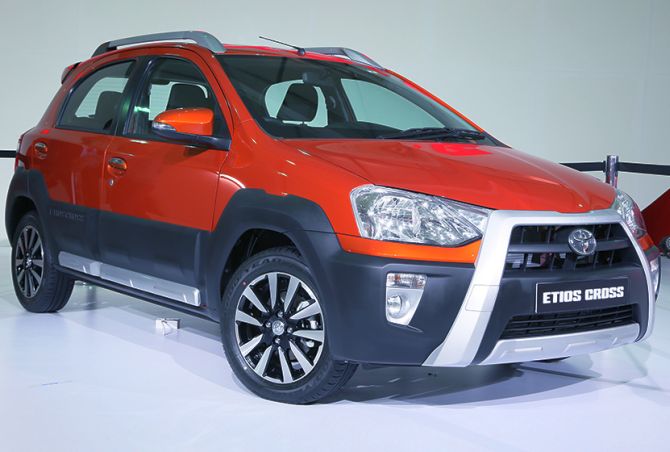 If we take a look at the vehicle, it's a nice compact cross over with superior dynamic exteriors. The vehicle comes with bold front grille, prominent roof rails, skid plates, blackened B-pillar, spoiler, and diamond-cut 15-inch alloy wheels. It features OVRM's with turn indicator and back window with defogger and a wiper. The vehicle has a cladding, which makes it 120 mm longer, 40 mm wider and 45 mm taller than the Etios Liva. Overall it's a muscular vehicle which definitely stand alone in crowds.
If we look at the safety, Etios Cross is equipped with front dual airbags and Toyota's collision absorption body with rust proof steel. The interiors are very spacious and comfortable with height adjustable driver's seat. The vehicle's stylish interiors comprises with a leather coated steering wheel with audio control buttons, a centrally mounted instrument clusters, and a large usable boot space of 251 Litres.