I have been a fan of the one-off pulp digest horror comics that were published occasionally by Diamond Comics, Raj Comics or Tulsi Comics but that was a very long time ago and since I haven't read any modern Indian horror comic(apart from The Rabhas Incident) that could measure up to those chilling tales. I am a huge fan of books like Robert Kirkman's The Walking Dead and Outcast so I was a bit apprehensive at first going into how this genre would be handled. Thankfully my expectations were blown away by this fantastically, well written book.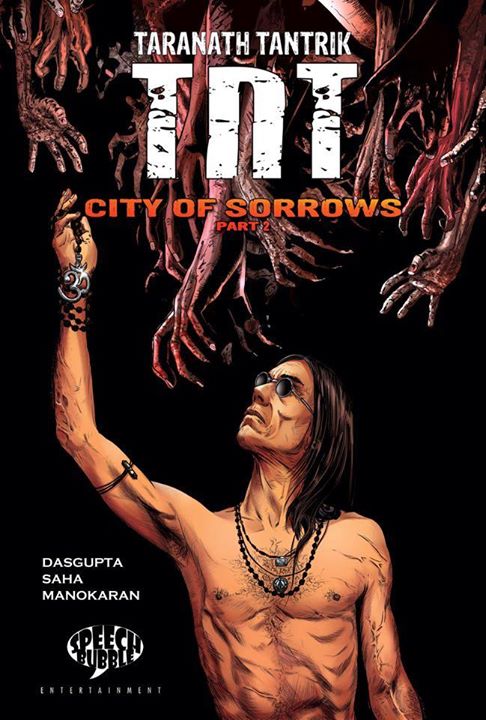 Taranath Tantrik (TNT) was created by Bibhuti Bhushan Bandyopadhyay who also wrote Pather Panchali. He is a "reluctant psychic investigator" with a mystical background, which is slowly revealed over time, and provides great segue into the narrative. TNT's looks have been fashioned after Iggy Pop, as you quite easily guess from the masterful cover art by Shamik Dasgupta and colored by Abhishek Singh in City of Sorrows Part 2. I loved how there are references which aren't blatant, for example, he is friends with Shankar, a C.I.D. officer and Vibhuti,an aspiring scribe(tribute to Bibhuti Bhushan Bandyopadhyay) whose works are largely inspired by TNT's stories, I found parallels to The Feluda-Jatayu-Topshe trio here which was quite a joy to read. Shankar's girlfriend Sneha is probably one of the more real, female characters that have been created in Indian comics. The antagonist has some great motivation, and I Iiked how this had just the right mix of mysticism, politics, use of technology and built up suspense to make it so engrossing. 
My favourite part about the book was how an 'adda' scene was shown, discussions ranging from Bengali film-makers to current politics to the works of HP Lovecraft and comparisons of Ganesha to Cthulhu over Jhalmuri made the dialogues feel very natural. Gore hounds will rejoice, this book has ample to fulfill your needs, I did not expect to see faces being cut off and a father bite the mouth off his daughter and rip off his son's arms. The pacing is superb and artwork is simply brilliant by  Bikash Satpathy in Book 1 but I felt there wasn't consistency in the faces of the characters especially Sneha's which seemed a bit different in every panel, but TNT Part 2's art by Tamal Saha had me drawing parallels to artist Bryan Hitch. Overall both are great looking books, superb  job done by the colorist, Vishwanath Manokaran.
 Shamik Dasgupta's love for Kolkata and its cultural heritage can be found in every page of TNT City of Sorrows with the references, locations and  political jabs. We finally might have our answer to John Constantine.
A Must Read.