The place Malegaon is some 300kms from Mumbai, and a major population here earns its income by sweating it out at weavers, but the town's forte lies in filmmaking. Nasir Sheikh's directorial debut happened ten years ago with Malegaon ka Sholay. Faiza Ahmed Khan's documentary shows the making of Sheikh's Malegaon-ed movie Malegaon ka Superman, and it does brilliantly well on your emotional light-vein, with Superman restyled as per the local setting and the actors' personal lives taking the center-stage. This documentary creating waves at present was completed four years back, by amateurish people sharing a passion for good cinema. And good cinema they've made, indeed.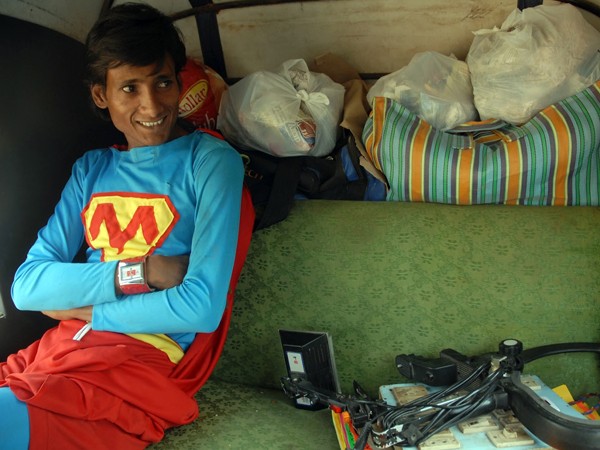 Well, it's a pure laugh-a-thon when you see your favorite DC Comic superhero going all desi. Yup! Meet our very own Superman from Malegaon, who flies faster than an auto-rickshaw and could be contacted dialing 007 (well, that's his phone number). The confusion of filmmaker Nasir over the huge credit-list at the end of a Bollywood saga is quite evident in the movie, because in his magnum opus, he's the one designing clothes for the actors, setting props, shooting, editing, directing and producing it. He does have a few mwn by his side, like the weiter who assists the actors while they prepare their dialogues, plus an actor who's also a sound technician and a dubbing master and also does the special effects of the movie. In the lead is the powerloom worker Shafique, who has to fight against the badness of tobacco in Malegaon.
Agreed that they lag on the technical front, but when they're making a movie (even though they are aware that these movies will only be screened at Malegaon video halls), they are dead serious about how they make it. The bumps they went through while making this film will make you gape in wonder as the filmmaker tries every possible stunt himself to get that perfect shot with his handycam. Do not miss this documentary for any other big-budget movie running at present, 'cos seriously, the big guns are not worth it.