An entire generation cannot wait for the new Jon Favreau retelling of Rudyard Kipling's collection of short stories The Jungle Book. This is the generation that learnt punctuality from the TV every day at 7:30pm to catch Jungle Book, because there was no YouTube to catch the repeat telecast. This is the generation which gets gooseflesh on watching "Jungle Jungle Baat Chali Hai" on YouTube, re-recorded by the original team of Gulzar and Vishal Bharadwaj on the occasion of this film's release. This is the generation that will undoubtedly be dragging their kids to a movie this time.
The Jungle Book is neither as dark as the original short story by Rudyard Kipling, nor as innocent as the Disney animated movie from 1967. It is closer to "Jungle Book Shonen Mowgli", the Japanese anime that was dubbed in Hindi for Indian audiences, which most of us, including me, always thought to have been completely made in India, completely ignoring the fact that if animation like that was possible in India 20 years back, how do you explain Roadside Romeo?
The story of Jungle Book has been shaken and stirred into various permutations through all its adaptations. A man cub, abandoned in the jungles of Seonee, is brought to the wolf pack by Bagheera the panther, where he is brought up by Raksha under Akela's wise patronage. During an especially fierce season of drought, when peace is declared in the jungle, Shere Khan the Bengal Tiger comes out of his guerilla life into the public and discovers the man cub, living under the Law of the Jungle. Burning still from his first encounter with "man", he demands the man cub be handed over to him. Left with no choice, Mowgli, as the man cub is now called, sets out on a journey to discover his true home. Along the way he meets the friendly bear Baloo, villainous Indian Python Kaa and gigantic ape King Louie.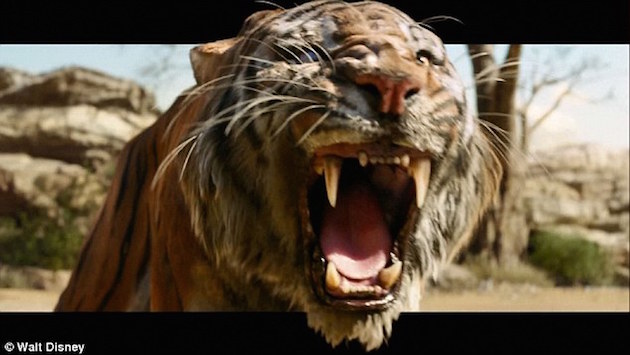 When I first saw the trailers, I was convinced the crew must have shot in the jungles of India with Neel Sethi and added the animal characters on it. No big deal, right? But the moment you see it on the big screen, you know you are seeing a groundbreaking visual spectacle, like Sin City or Gravity. The jungle, with all its fantastic flora and fauna, you can see has been digitally created to such detailed perfection that every blade of grass, every drop of water, every hair on the animals' body feels real. There is something in animation called the Uncanny Valley effect, which is the reason why we find certain films like Polar Express creepy. I think this will go down in cinematic history as the first film to have crossed it.
But it would have remained just a visual treat, not unlike Avatar, had it not had the most established set of voices heard in a film. Sir Ben Kingsley voices the wise loner Bagheera as a no-nonsense mercenary, always present to remind him of the seriousness of the situation. Christopher Walken, playing King Louie, channels a mix between two of Marlon Brando's most popular characters – Vito Corleone and Col. Kurtz, to bring to life a recluse that also knows the importance of his family (of monkeys). And no one does sexy better than Scarlett Johansson, so audible in 2013's masterpiece "Her". But the movie, voice wise, belongs to Idris Elba and Bill Murray. Shere Khan, menacingly brought to life by Elba, is genuinely scary, and belongs right up there as one of the nastiest baddies in movies along with Gabbar and Joker. Bill Murray's Baloo is portrayed as a bit of a conman in this movie, and brings much needed fun and irreverence to the jungle. His timing, his tone, his lack of energy all fall spot-on to create a character that is age old, and still completely original.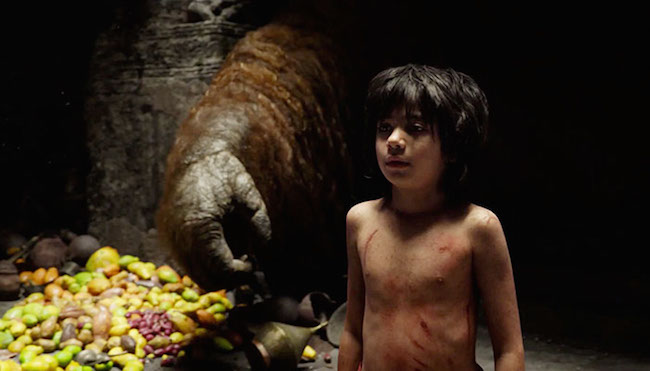 But the film ultimately belongs to Neel Sethi. Mowgli is a street smart imp who knows his surroundings well, and Neel Sethi plays him with a wisdom way beyond his age. When he tries to howl like the wolves, you know that's his best attempt, and not just him acting what his best attempt will be like. He seems to be genuinely having fun in his scenes with Baloo and Bagheera, and genuinely scared of King Louie and Shere Khan. And real chops to Disney to bet on an Indian kid headlining their summer blockbuster, without whom, the movie would have failed miserably.
Jon Favreau never lets the technology drive the film, focusing on his story and his characters, rather than the beauty of the universe he creates, and that's where I feel his biggest strength lies. Despite the stars, the budget, the effects, Favreau still makes The Jungle Book feel like an old-school school play, with friends acting out the parts and the familiar tunes reaching a crescendo repeatedly to draw applause from the tiny tots. Jon Favreau, I feel, will go down as one of the most important people in the history of Hollywood. Following his Iron Man movies, the Marvel Cinematic Universe took birth and has dominated Hollywood for the past decade like a box office monster, grossing almost 9 billion $ to take top spot as the most successful franchise of all time. And he has only cemented his status as a technological whiz at par with James Cameron after this film.
I am going with 4.5 stars out of 5. I loved the film in its entirety. I loved how I got a slight kick every time they mentioned geographical features like Wainganga river and Seonee, not far from the place I was brought up. I loved how the film doesn't care for layers, and instead goes for a proper knock-out punch with the main premise instead. I loved how it made me want to play Bare Necessities on loop. I don't remember the last time I travelled in a time machine like this.
PS: Regarding the entire U/A controversy, the film deserves its rating for some frightening images. Also, this is rightfully the first PG rated Jungle Book movie in Hollywood too.
Overall Rating: 4.5/5