Embracing Flexibility

What's next?  That's a question we ask ourselves after we have tasted the fruits of a technology that makes an impact in our lives. Over the course of this decade there have been quite some products such as the smart mobile phone, DTH(Direct to Home) Television , broadband internet etc that have made meaningful change to the lives of many consumers all around the word. Also what has changed over the decade is the pattern of consumption of information, nobody would have predicted a decade before that a consumer would consume more information on mobile devices than on a fixed medium such as television. Today, we have content created for mobile devices which are consumed via dedicated applications; Television for the first time in years has become a 2nd grade entertainment device. Why has that been? Its because the content on the television is static and to a large extent the television does not give enough importance to flexibility of the consumer. The show times and rerun times are fixed and in such a situation the only way to consume as per ones own convenience is to record, which also has limitations and challenges of its own. On the other hand internet based content gives total independence to the consumer to chose the time, place and the medium of consumption; every one likes independence. But if internet based content is taking the front position what happens to traditional D.T.H based content? For the T.V to avoid becoming just a large display in the house, the content creators need to embrace the flexibility of the internet .
Are consumers ready to embrace the change? Yes, it's the consumers that are demanding the change in the first place. Our lifestyles have changed in the last decade and our jobs have become more demanding which forces us to look for a medium of content consumption that embraces flexibility. Here enter services like Netflix, Hulu, HotStar etc. The big question with services like ones mentioned before is 'can they completely replace the traditional D.T.H based service'? The answer is no, unless all the content available via D.T.H switches over to the internet and the only way to achieve that is IPTV.
So, do we have any IPTV service providers in the Indian Market? Yes, a few and the most exciting among them is Lukup Media, which currently only provides its service in certain areas of  Pune, Bengaluru and Hyderabad.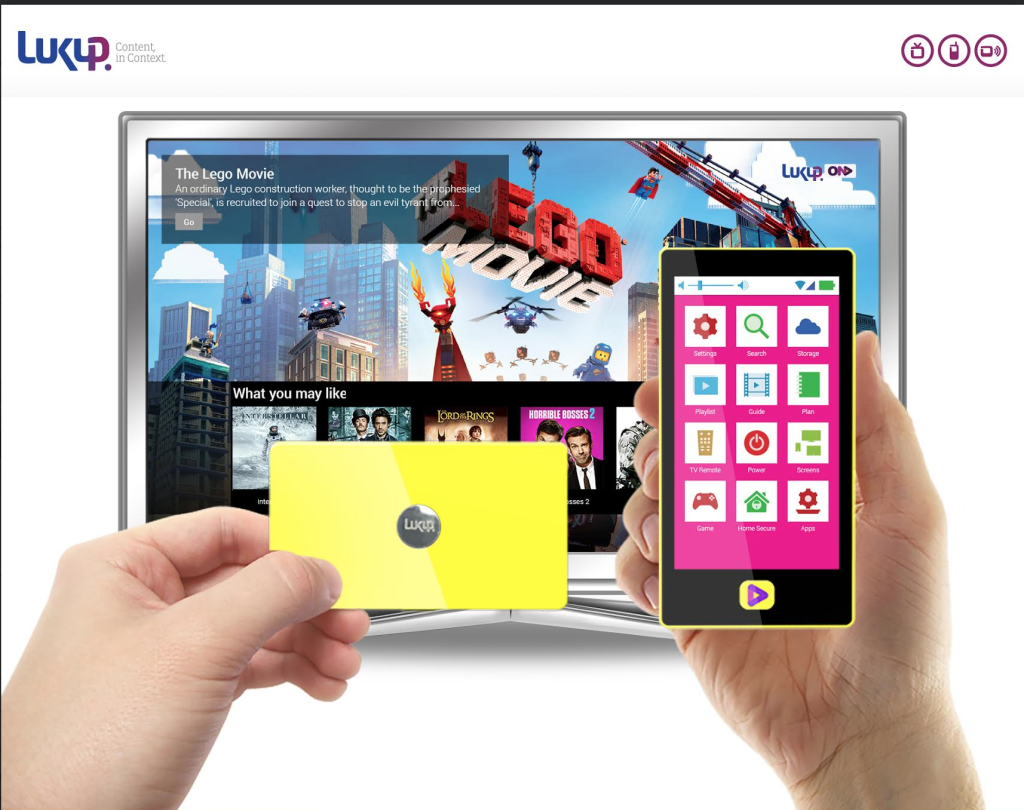 LUKUP Player XP
Lukup player has been in the market for some time now and over the years it has undergone change to become more feasible as an 'all in one solution' for consuming any kind of content. The Lukup player XP, which only weighs 60 gms acts as an IPTV enabler and also as an WIFI router. This basically means, Lukup provides its own internet service and also transmits data over the same CAT-6 line. Whats interesting here is that there is no cap on the bandwidth for consuming IPTV content, for other content Lukup provides bandwidth based on the package a consumer chooses. Lukup Media has partnered with most major broadcasters and has 200 + channels at present and they expect that base to grow upto 400+ in two months. Apart from that they also provide cloud media storage to keep recorded content, catch up and Multi-screening, for select TV channels. The Lukup player doesn't have a separate controller as did its predecessor and is controlled via a mobile app which can be installed on both IOS and Android phones. The mobile app also provides the flexibility to watch content on the phone as and when required.
The Lukup Player itself is a device that delivers television, on demand content and services, and internet access to your home. It is a smarter replacement for the set top box without the rigidity that came with the latter. The content on a Lukup Player can be backtracked by 7 days without the user having to decide whether to record it or not. The Lukup Player is definitely the future of content broadcasting but how well it achieves to do it will depend on their strategy, quality of service and pricing .
The Lukup Player XP, which is not currently in the market will be available at around Rs 6000/- when it launches. There will be rental plans also for people who do not want to buy the player upfront.
Specifications:
Size                               : 90 x 52 x 18.50 mm
Weight                         : 60 gms
Video                            : HDMI
Display                         : High definition, 3D supported
Memory                       : 1 GB RAM
Storage                         : in built 16 GB SD card
Communications        : Wifi 802.11 b/g/n, Bluetooth 2.0
Broadband access       : Ethernet
Media access                : USB OTG
Power                            : 3.4W
Packaging                    : comes with user manual and power adapter
More details on the Lukup Media Service can be found here.
Stay Tuned for a more comprehensive review of the Lukup Player XP .