Plot
In his quest to make information free for everyone, whistle blower Julian Assange takes on the kingpins of the world by raging a sophisticated ,new age war that threatens to shake the foundations of diplomacy and overthrow established regimes .It tells the story behind the rise and fall of WikiLeaks and of its creator Julian Assange, who some people call a visionary and some a threat to national security .The story revolves around the complex character of Assange and explores his relationship with Daniel Berg ,one of the spokespersons for Wikileaks.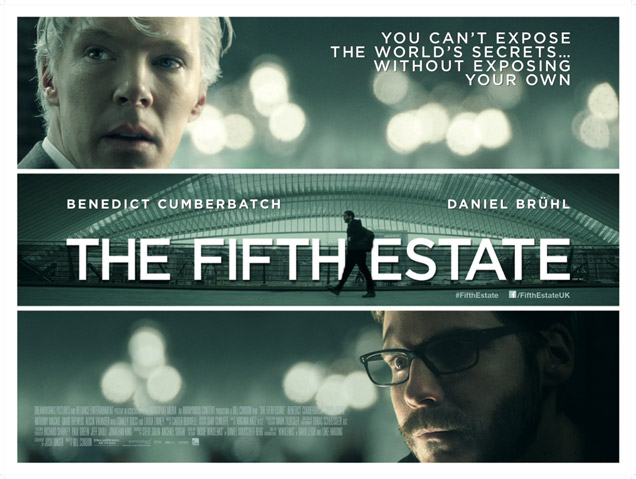 Script
The Fifth estate is loosely based on the book "Inside WikiLeaks" by Daniel Berg and uses real life examples as key points to narrate the story. The script is to the point, taut and close to reality but it never becomes more than that. It feels like a monotonous narration of the book with no elements of a thriller that it promised to be. If the makers wanted a boring narration of the events that are already available online why did make all the efforts to make a movie and waste a talent like Mr Cumberbatch?
The script is written to explore the association of Assange and Berg but fails to do so and only creates a one dimensional sketch of a Multidimensional relationship. Other parts of the movie are outwardly boring and dimensionless which makes it a Prime time News at max when the viewers expected a thrilling and insightful leak into the life of one of the most Controversial public figures of the 21st Century.
Direction
Its Difficult to understand why Bill Condon was chosen as a director for such a controversial public figure (Mr Condon is the director of Twilight :Breaking Dawn 1 and 2, Now you get it ,right?).
His Lack of control of the story and the essence of Julian Assange's character is visible throughout the 128 minutes , his lack of understanding of the character is the prime reason why this movie fails to hit the right chords.
Performances
Benedict Cumberbatch is the reason why this movie is watchable throughout its runtime. The expression, body language, non-verbal cues are exactly like Julian Assange's.
Though Assange refused to meet when Benedict requested him so that he could understand him better, citing faults in the script which he disapproved, still he managed to bring such a complex character to life on screen with panache. He is one of the most exemplary actors of this modern world of cinema.
Final Word
The only reason why you may want to watch the movie is Benedict Cumberbatch. Except for him the movie is a dull replay of events we already know of, this isn't the movie that Julian Assange deserves. If You are interested to know about Mr Assange I suggest you watch "We Steal Secrets" by Alex Gibney, that is at least honest in delivering what it promises.
Overall Rating: 2.5/5