The Connected Age by Sudhakar Ram bears the tagline 'Being the Best You Can By Reinventing Your World'. As catchy as the phrase is, if you are a socially conscious, self-respecting, concerned individual, you are definitely going to relate to the idea being expressed with it. In fact, taking into consideration the need of the hour, that line could become or should become a public outcry of sorts. In his book, Sudhakar Ram, who happens to be a silver medalist from IIM Calcutta and a CEO + Co-founder of Mastek, one of the oldest Indian IT services MNC, the focus is on identifying all that's wrong in the modern-day world we live in and how we can make changes to it for better at an individual level. The Connected Age, as expressed in his book, is not just about how we are all connected to each other by technology. In fact, it takes a much higher view about about connectedness and interdependency on each other as well as towards society and ultimately the world.
The book begins by listing down why Mr. Ram thinks it is necessary to stop the buck here and initiate a call to vision of making the world a better place to live for our future generations. He describes the current state of the world and shares what are the governing principles of the connected age in a 21st century context. After establishing the facts supported with figures and some real-life examples, the author moves on how individuals are becoming more and more disempowered despite the availability of quick technology and knowledge. He shrewdly covers how individuals can move beyond material success and indulge in the life-long learning processes. Here, he has focused on how individuals can take control of their lives and do the work they are supposed to do by keeping in mind important factors that affect the society such as – consumption and sustainability.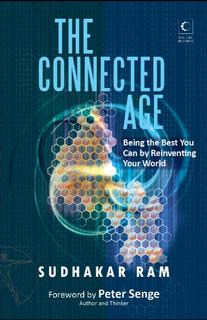 In the latter part of the book, the author moves from individual change to structural change, where he focuses on how like individuals, organisations and governments can function harmoniously with nature and become the engaging factor to bring about positive change. Here I must stop to share an important fact about the book. Every point shared across the different chapters is put across convincingly, thanks to the examples from the author's own life, the stories of CEOs, ideal figures from sports, entertainment and politics. He actually makes the readers believe that they can make it, that it's not all that tough if every individual has a strong vision and adequate drive to achieve it.
The book takes you on a ride about an interesting perspective, a world view that seems like it's the most obvious, but is often neglected. He sheds light on every aspect of the society that needs your attention with an interesting take. This paperback can give every reader ample ideas to initiate the change within and around himself so that he becomes empowered to take necessary actions. In fact, if you love the ideas and thoughts presented in the book, you can also follow Sudhakar Ram's Blog "The New Constructs", which offers practical and doable suggestions/advices for all.
The Connected Age is recommended to anyone to anyone who is interested in reading about change in the modern world. If there's something happening around you that doesn't seem right or if there's something that bugs you about the society or the people around us, but you are not sure what it is, you should go ahead and check this book out. Chances are that you will find answer to many of your questions and are left bubbling with several better ones.
Overall Rating – 4.5/5
You can purchase the book from Flipkart here :