Sulemani Keeda belongs to the new breed of fresh voices that have been coming out from the Hindi film industry recently that strive to make something very different from the norm and average theatrical movie releases that we grew up with and relegate these days. Also it has the added advantage of having a title that induces laughter just by a mere mention of it.
This movie also looks unlike any other movie you will see this year, maybe due to its extremely low-budget, achieves a very intimate look with regard to the color grading, cinematography, highly reminiscent of MTV's immensely brilliant show – Bring on The Night. Surjodeep Ghosh, the cinematographer and Amit Masurkar, the director have a free rein exhibiting a photographer's delight in many sequences with long exposure shots, double exposures, a song sequence composed only of still images, great to watch them play out on the big screen.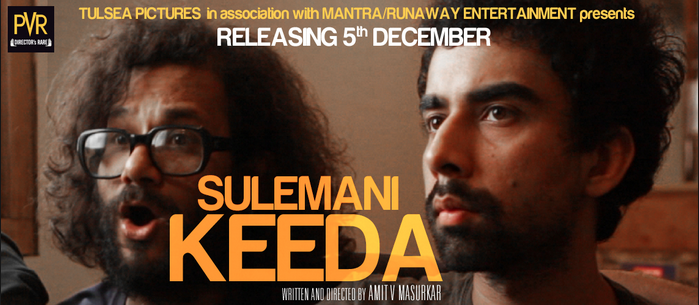 We need more A-rated Hindi comedies, after Delhi Belly this is probably the only one that goes on a no holds barred rampage of the choice swear words which do not seem forced and is seamless with the dialogue. The high point being the Poetry scene where actor, Mayank Tewari who has one of the best comic timings I've seen, has his take on slam poetry. He steals almost every scene that he is in. I'm sure we'll be hearing more from him soon. Naveen Kasturia is great in his role of the main protagonist the one half of the writing duo Mainak-Dulal who want their script to be turned into feature-length and the movie's plot is the trials and tribulations that they endure in doing so, hence the script becomes very meta in that sense, while Dulal falls in love with the unrecognizable and highly talented, Aditi Vasudev, who you may remember from the lovely flick Do Dooni Chaar and Talaash. She's great in her role and convincingly portrays someone you fall for even though you know it's ill-fated. Karan Mirchandani's Gonzo plays the director who tries to bring his vision to their script, his cat is named Fellini, so you know the type, this would have been brilliant had it been done before TVF's much superior parody video Making of an Arthouse Film was released, which you reluctantly draw parallels to, regardless we have a full-blown animated sequence courtesy one of his drug fueled epiphanies. The cameos deserve a special mention, there are quite a few here including the likes of the TVF guys and Mahesh Bhatt.
The 89-minute running time should ensure that the screen time isn't wasted however the script could have been doctored a bit more and the pacing could be worked on, which is the main issue I had with the movie. The ending was Roman Holiday-esque hence grounded which I felt was very well done. I cannot wait for what Amit Masurkar does next. We need to support these indie films and I highly recommend you check it out this weekend.
Overall Rating : 3.75/5