They promised us war and they certainly did put the 'War' in Star Wars. Gareth Edwards' Rogue One is not just a great Star Wars movie, it's a great war movie. I'm not just saying this as a long time fan of the franchise and fresh off watching it, but I genuinely believe this to be my favourite Star Wars movie. It has redeemed the word 'Prequel' for the Star Wars franchise.
Mild Spoilers below.


A movie with its ending spoilt 35 odd years ago depends on strong story tellers to make it compelling. I'm so glad that writers Chris Weitz and Tony Gilroy made sure it wasn't a light romp and had a meaty script which added a lot to the universe and made the first Star Wars movie an even better watch. Retconning is a plot device where you retroactively fix a movie plot, Rogue One has one of the better retcons I've ever seen, put to film. One of the most nitpicked part about A New Hope is how an exhaust port can lead directly to the reactors, which makes it blow up. Rogue One retcons it by making that a conscious decision on the part of Science officer, Galen Erso, played by Mads Mikkelsson who is in charge of designing the Death Star. His daughter, the protagonist, Jyn Erso played by Felicity Jones, gets drafted into the Rebel Mission to steal these plans from the evil Galactic Empire and deliver them to the Alliance.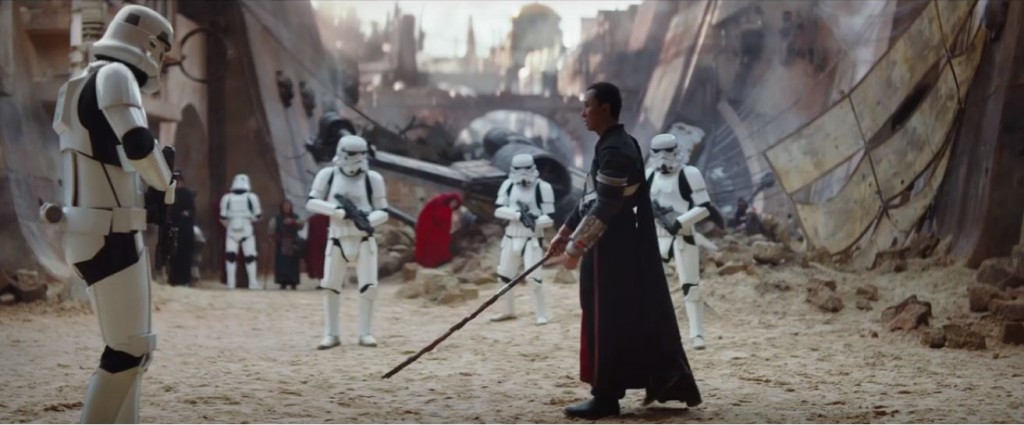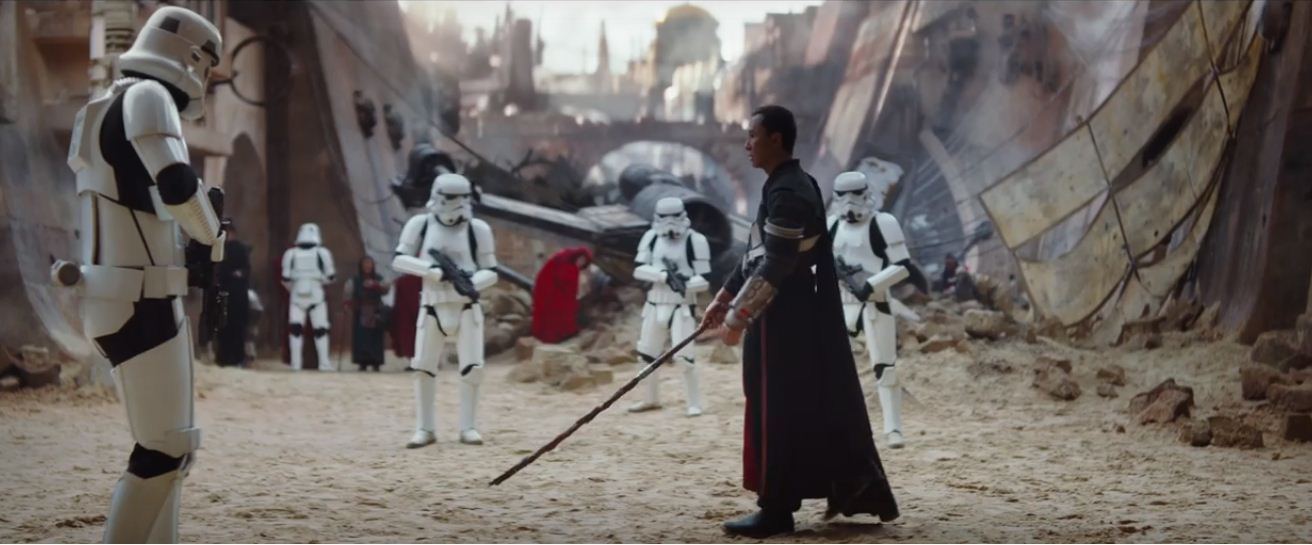 Jyn Erso might possibly be the strongest female lead we've seen post Imperator Furiosa in Mad Max. Every character has an arc which makes it a finely polished ensemble flick. Most movies make a mistake of casting great character actors and have them only as a part of the background. Donnie Yen and Wen Jiang have a substantial and a memorable role as Guardians of the Jedi Temple at Jedah and Force believers who assist Jyn in the mission. Along with them is Bodhi Rook (Riz Ahmed) a defected Imperial pilot and the droid, K2SO voiced by Alan Tudyk, which might give you a hint to his fate, an all round badass along with Diego Luna's Cassian Andor who is a cold blooded Han Solo. Everyone here has their distinct role in making Rogue One the most emotionally rich Star Wars, till date.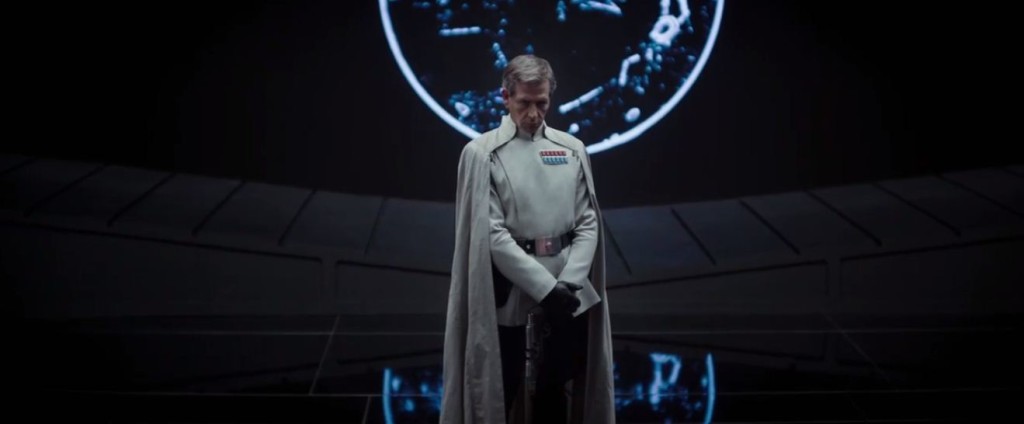 The die hard fans will love the references right from the first frame with the rings of a planet mimicking the imposing Star Destroyer from A New Hope, to a glass of blue milk, to those two guys who quarrel with Luke in the Cantina scene. There are also actors who make a comeback even from beyond the grave. Actor Peter Cushing who died in 1994, reprises his role as Grand Moff Tarkin with what can only be described as digital wizardry and delivers one of the best performances in the entire movie. This has been seen before in Benjamin Button, RDJ in Civil War and even here with Carrie Fisher playing her younger self, but this will set precedence in bringing back actors whom we have lost. Someone who did not know this could easily have mistaken it for not being CGI, we are at that stage right now. Fans will also recognize Jimmy Smits who played Princess Leia's father Bail Organa which is not the only call back to the prequels. The design of another planetary oupost is quite similar to what we saw in Episode I-III.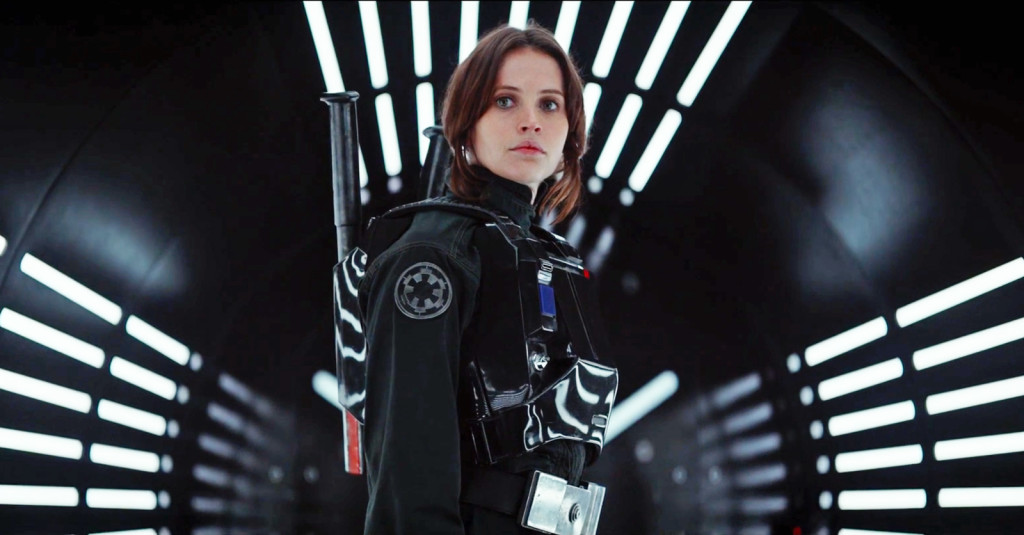 The earlier movies had painted the role of the Alliance as well meaning, good guys. In war, the grey seeps in and this is no different. The Alliance and their fighters tread on some very morally ambiguous grounds giving it  shades of realism. There are also extremists lead by Forrest Whitaker which is quite reminiscent of the show Star Wars Rebels. As I had mentioned earlier, it makes the first movie a better watch, we get a ground level perspective of a Death Star attack, the weight of which will carry over when you watch the destruction of Alderaan.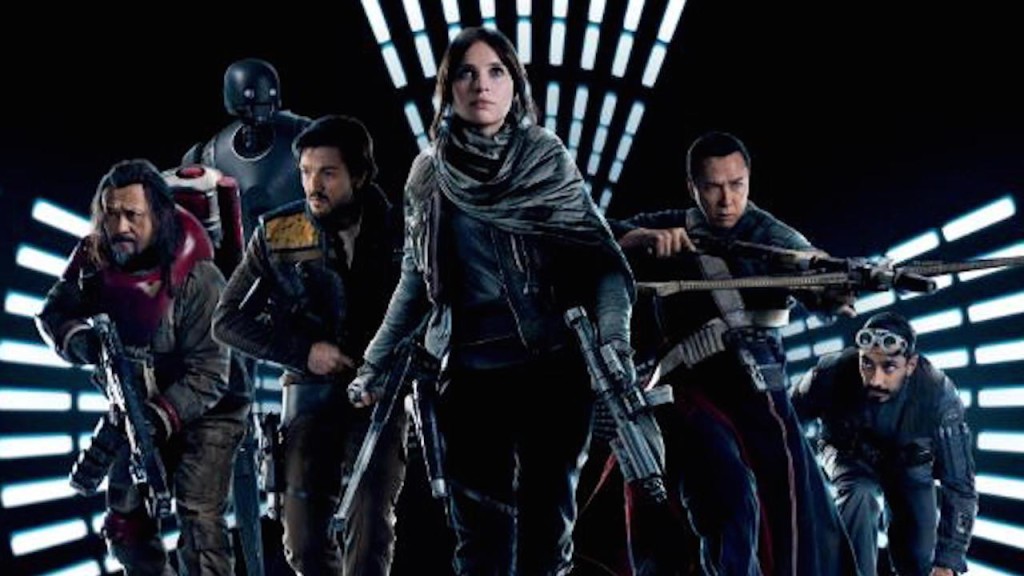 The last hour of the movie lives up to the build up, as promised. We are given an action sequence worthy of being put out there with the best and a third act which sticks its landing, a rare case for blockbusters these days. The mix of practical effects and VFX is flawless is bringing the grittiness of war straight to you. The aerial fights, the scale that director Gareth Edwards is famous for is used to great effect. This movie was a 4.5 for me, but for 5 mins we get to see the wrath of Darth Vader unleashed, in what can only be described as a fanboy's wet dream come true and nudged me, over the edge, to give it 5 full stars.
Go watch it in theatres, the Force is really strong with this one.
Overall Rating: 5/5
Subscribe To Indian Nerve