I felt a jolt every time a cellphone rang. Every time a Toyota Prius drove past, every time the singer George Michael was referenced, every time YouTube came up in a conversation. I found myself constantly astonished at realizing that La La Land is set in the modern day world, because it tingles from head to toe with the soul and spirit of an age long gone.  This, my friends, is not a movie of our times – and I can think of no higher compliment in times like ours.
We open on a sunny winter's day in Los Angeles. We are in the middle of one of the city's dreaded traffic snarls. Cars are gridlocked as far as the eye can see. Through the buzzing cacophony of grumbling voices, chattering car radios, beeping cellphones and honking horns, subtle notes begin to emerge. They turn into a tune, then into a song, and within minutes we have a full-scale dance sequence in play on an LA freeway. It's a catchy, breezily choreographed opening that lasts a good five minutes. We wait for the reveal that we have been watching a dream or giant movie set, but no such thing happens as the story matter-of-factly starts to unfold. That's when we understand that we are watching a film that is not going make excuses for its music. This is not a film that will wink at you, or at its own reflection. You are watching a musical. Deal with it.
Director Damien Chazelle's idea for La La Land was "to take the old musical but ground it in real life where things don't always exactly work out". Over 128 enchanting minutes, the movie does exactly that. We follow characters who are pure but not innocent, who love but are capable of heartbreak, who live but are not immune to life. We watch song and dance that bubble with joy, but also sometimes simmer with a pain that we know will outlast the end credits. The film is a diversion and yet not an escape, a dream and yet not a fantasy. It is movie magic of the highest order.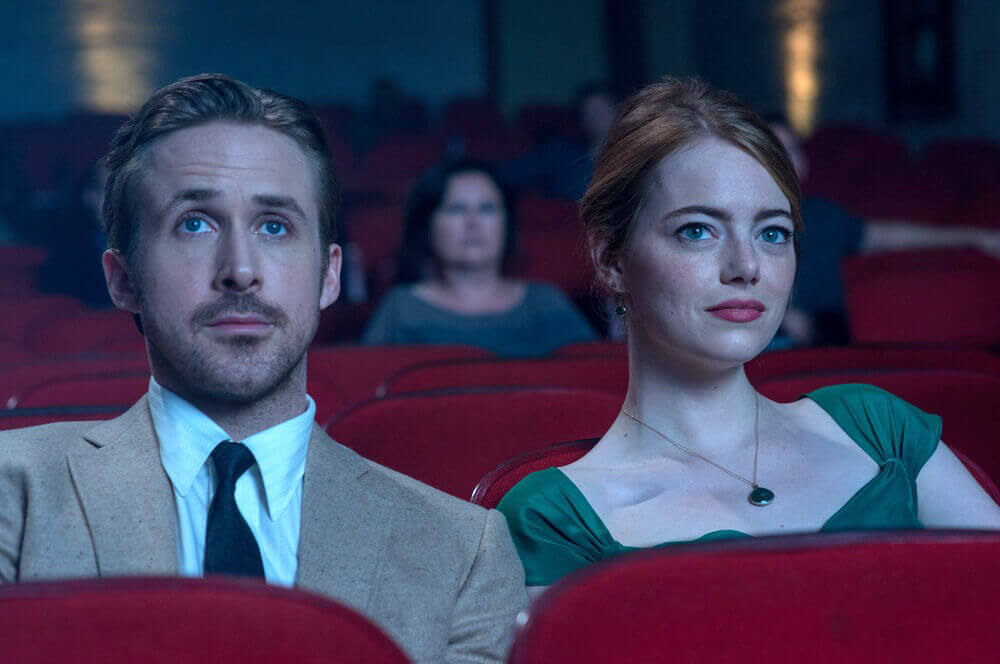 Of course, this is a love story, and love stories are only as good as their leads. It's safe to say you were probably already in love with Ryan Gosling, Emma Stone, or both – and I'm afraid La La Land won't make matters any better for you. Gosling's unhappy musician broods over a piano, playing a dark lament of loss and sorrow. Stone's struggling actress is a picture of vulnerability as she belts out a passionate ode to dreamers, tears brimming in her wide eyes. Both actors are simply outstanding, and reveal themselves to have wonderful musical gifts. Stone looks likely to get an Oscar. If Gosling doesn't get one too, he should at least be be nominated twice, also recognizing his hilarious work in The Nice Guys earlier this year.  While we're on the subject, I can't think of a single department where this movie doesn't deserve a nomination. It is a film for the ages.
La La Land opens on the same weekend as Rogue One: A Star Wars Story. That film is directed by Gareth Edwards, who made the atmospheric, low-budget indie Monsters (2010) before he landed the directing job on Godzilla (2014), and then there was no looking back. While I love a good, old-fashioned blockbuster as much as anybody, I often feel a twinge every time a director like Edwards signs up for a major franchise. I can't help but feel that original, groundbreaking work is sidelined in the bargain. Would La La Land ever have seen the light of day if Damien Chazelle had been recruited, say, for Spider-Man: Homecoming? We can only thank the stars that nothing of the sort happened, although in all fairness I would probably have thrown my money at that movie.
Chazelle is, incredibly, only 31 years old. He debuted with the blissful Guy and Madeline on a Park Bench in 2009, then announced himself with the brilliant Whiplash in 2014. He has now made a masterpiece. There is no telling what he will do next, but the odds are strong that cinema will be richer for it. Note to Hollywood, just let him do his thing. Here's to the ones who dream, foolish as it may seem.
Overall Rating: 5 / 5