Superstar Shah Rukh Khan and businessman Paras Chandaria of the Comcraft Group have teamed up to launch the international educating chain KidZania's first theme-park in India, that beautifully combines fun and learning thus adding to kids' merry. Shah Rukh Khan has a 26 percent stake in KidZania's Indian franchise.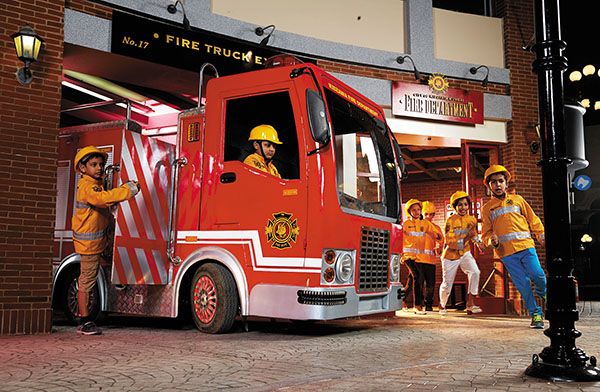 Where is KidZania located?
The 75,000 sq feet spanning KidZania Mumbai is located at R-City Mall in Ghatkopar. You'll need a boarding pass to enter the same. The park emulates a real city, and includes several establishments like a bank, a fire station, a univercity, a cinema theater, eatery-outlets, a town square and shopping malls. These outlets are commercially sponsored by Yes Bank (ATM), Coca Cola (Bottling Plant), Hyundai (Car Driving School), Kellogg's (Cereal factory), Central (shopping mall) and Big Bazaar (departmental store).
Upon arrival, each child is entrusted with a traveller's cheque worth 50 kidZos (the local paper currency that can't be bought or sold for actual money) that needs to be cashed after opening a savings account at the local bank, YES Bank, in Mumbai. Children are encouraged not only to earn money but also save it for later—the bank offers 7% interest on any KidZos savings.
Once entered, each child is given a traveler's cheque worth 50 KidZos (the town's own paper currency), which they've got to cash by starting up an account at the only bank there is. This shall turn out to be real helpful for developing their concepts on banking services. For the 5-hour stay of their visit, children get to have first hand experience of being a professional worker at Big Bazaar's departmental store or at Cadbury's chocolate factory. They even learn about the working of Television channels at Star TV studio, and if the children want to explore there journalist side, they can always train for the same at the Times of India newspaper office. For little showmen, a cultural centre and a Bollywood acting studio is also established, and after training here they've to perform at the 120-seater National Theatre.
There's a team at the employment centre that analyses these children in order to understand their talents and interests, guides them in building up their resume, and even assists them in getting suitable jobs based on their passion. With every job, the kid stands a chance to earn more KidZos which they can spend on getting fun tattoos, or slay their time at the pottery studio, or they can pamper themselves with fancy treatments at the salon. Children attending short 20-mins classes are awarded degree certificates, that fetch them greater salaries at their respective jobs.