Sony's first flagship smartphone for 2013 is Xperia Z. A phone with a stylish design and appealing Android customization, Xperia Z is built to hit the bull's eye.  It shows that a lot of hardwork and research has gone in the making of the device after a range of Xperia series of smartphones failed to steer the market in the last year. Sony Xperia Z breaks all records of its predecessors and comes out to be one of the most successful devices available in the market today.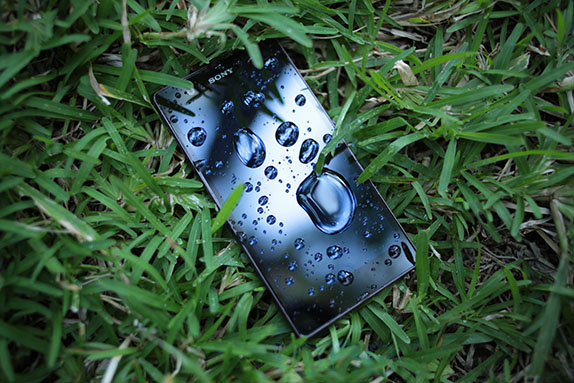 Xperia Z retains the basic structure of its range- the square built. The device looks more stylish when compared to Xperia S and Xperia T.  The frontal part of the phone is clean and uninterrupted holding a tempered glass cover.  The back of the phone is a messy with the Logo and statutory warnings like "do not bin".  Although being a very large phone in size, Xperia Z fits well in the hand and can be managed comfortably. It is a shatterproof and waterproof device, but one should not try dropping it on hard floors. Sony has laid immense efforts in detailing and built of the handset. There is some gap in between the glass and frame of the phone, because of which the phone will attract more dust.
Available in three colors: white, black and purple, this phone weighs around 145 gm. With 1.5 GHz Qualcomm Snapdragon S4 Pro Quad core processor and 2GB of RAM, it yields a good result. The pre-installed Google Chrome browser runs smooth. One thing that makes the phone stand out when compared to its contemporaries is its 5 inch reality display with its full HD 1920 X 1080 resolution screen.  Colors look vibrant and rich in the phone.  Xperia Z provides such a good viewing experience for movies; it feels as if one is holding a television in their hands.  The quality of the photos and videos are enhanced by Mobile Bravia Engine 2, a default setting. With an overtly large screen , single hand operation becomes cumbersome for this phone. There is an inbuilt memory of 16 GB which is expandable upto 32 GB by microSD card. Wi-Fi, Bluetooth, NFC, GPS, and DNLA are provided by connecting the phone to other devices and internet.
The device is equipped with a 13 megapixel rear camera accompanied by Exmor RS sensor. It is the first smartphone to enable HDR in video mode. Loaded with Android 4.2.1 Jelly Bean software, the interface is interactive and attractive.
Overall, equipped with all the latest advancements available in smartphones today, Sony Xperia Z won't disappoints its users.
This review is written by experts at Reliance Digital.