It's not clear whether this is a rumor or some fancy gadget has really made its way to salute the most celebrated politician at present, but whatever it is, Smart Namo has definitely made some big news. Dedicated to the Gujarat Chief Minister Narendra Modi, the Android-running smartphone is the brainchild of a group of businessmen who're in the mobile making business based in China. While NaMo is the signature slang for Narendra Modi, the team states that it also means 'Next-Generation Android Mobile Odyssey'. The creators are hopeful of getting the CM's consent of getting his signature across all NaMo branded smartphones.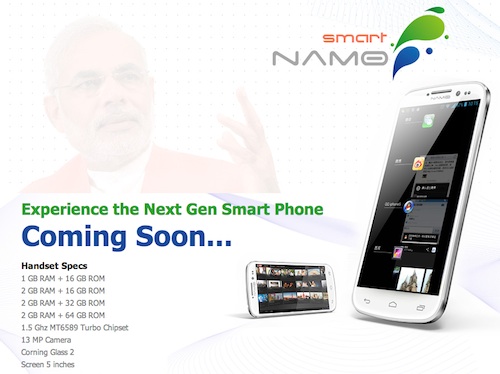 From the spec-list, the phone looks extremely durable, very much like the CM himself. With Android being the founding platform, the phone has got 1GB to 2GB memory variants with 16GB/64GB internal storing capacities. Powered by a 1.5 GHz MT6589 Turbo chipset, the phone has a 13 megapixel camera mounted at the back, though nothing has been revealed regarding the front facing camera yet. The display resolution too is uncertain, but the phone shall definitely enjoy a 5-inched Corning Glass 2, with full HD (1920x 1080 pixels) resolution.
This is what the makers say in their official website (smartnamo.com)-
We are fans of Shri Narendra Modi, our forthcoming future leader of our great nation India, we are manufacturing latest Android handset dedicated to the 'Iron Man' of modern India. We are from land of Gujarat and in electronic smartphone business in China. NAMO stands for Narendra Modi and Next Generation Android Mobile Odyssey. Our product is our way of dedication & respect to our great nation leader. We will be launching NAMO Android handset with Shri Narendra Modi 'signature edition', for which process in under way !!! We will launch our handset very soon.
Mr. Ammeet Desai, spokesperson for the company stated that this concept originated from the Chinese markets where it's pretty common to witness mobiles being named after prominent personalities. The price of the phone has been set at Rs 16,000/- and shall have featured videos of Mr. Chief Minister, and if the theme is to be believed, some few dedicated apps on Modi shall be incorporated as well. Another budget phone variant of SmartNamo shall be released for Rs 1000/-.
Best part is, the team shall be trading the phones at zero percent profits, i.e. at manufacturing cost itself. This here, is the unadulterated love Modi has garnered all over the years.
Update [September 24, 2013]– The SmartNaMo Saffron One phone is now up for pre-order for Rs 18,000 at online e-commerce store Snapdeal.