In Singham, our protagonist Bajirao fights off a corrupt politician to avenge a police officer's death and to clear the latter's name from all allegations. In Singham Returns, our protagonist Bajirao fights off a corrupt politician and a corrupt godman to avenge the death of a police officer and an honest politico, and clears the police officer's name from all allegations.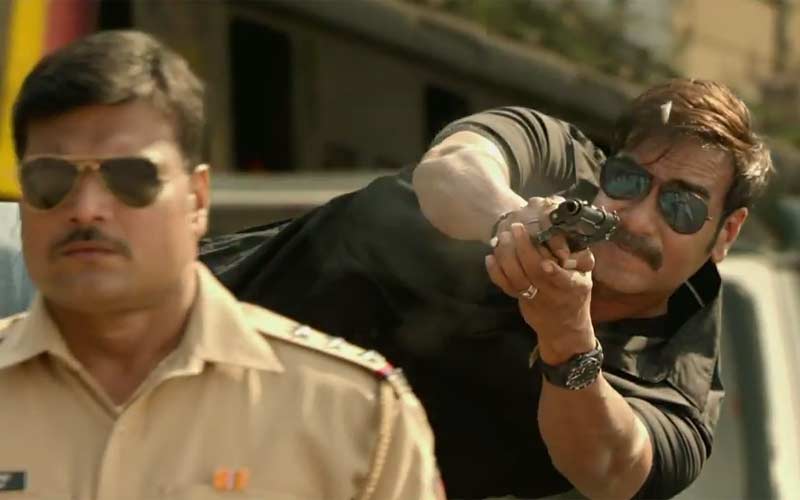 After seeing what Singham was reduced to in its Hindi remake, I didn't expect much from Singham Returns after checking out the trailer. And this 'no expectation' phase helped I guess. The Tamil film sequel, Singham 2, had black-money issues at its core as well, but Singham Returns has borrowed nothing more than that from the film, and I actually found this Hindi sequel to be better than the Tamil one.
Bajirao Singham (Ajay Devgan) is now a Deputy Commissioner of Police in Mumbai, and is a loyalist to Gandhi-kissed politician Guruji (Anupam Kher), who believes in dividing political responsibilities among the elder and the youth for better governance. Against this notion are alliance members Baba (Amole Gupte) and Prakash Rao (Zakir Hussain), who want the reign to themselves and cannot seem to get enough of it. The police department comes into limelight after a constable from Singham's team is found dead in an ambulance harboring 10 crore rupees. Apparently Baba is laundering Prakash Rao's black money via his ashram, to help gain votes for the upcoming elections. The origins of the money, and the people behind the constable's death trigger Singham into full action mode, where he proceeds to avenge his partner and seek justice for him by bouncing goons and blowing up cars.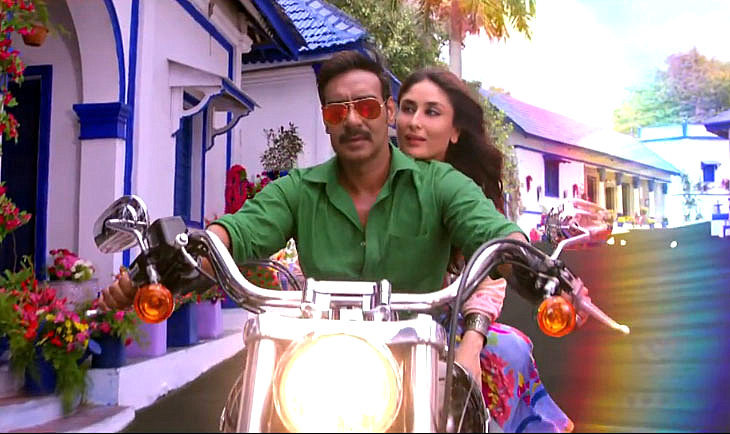 My main draw to this film was the brilliant Amole Gupte acting a villain, and while he renders some good laughs here and there, this performance is definitely not what I expected to see. In Kaminey, I was sincerely terrified of this laughing bad guy, but here I was just slightly amused and majorly disappointed. Zakir Hussain is doing some really good job in Yudh right now, so watching him downgrade himself in the movie was again unpleasant. Both of them were mere embarrassments included to further enhance Singham's heroism. Prakash Raj was a very strong villain in the first, something which had saved the film's grace.
Ajay Devgn has done a brilliant job at thumping his temple with his hand repeatedly and mouthing 'Aata majhi satakli'. Kareena Kapoor gives reason throughout the film on how she lost her size-zero, by eating anything and everything that comes her way. She even gets to slap her way to become 'Lady Singham', with a video that goes insanely viral on YouTube and renders her this title. Mahesh Manjrekar gets the most believable role – he's honest and wants to change the society, but understands the political constraints and maps his plan as such.
There's a moment in the film where the dead cop's widow helplessly seeks Singham for work, be it washing clothes or mopping the floor. This is perhaps the most realistic moment in the entire film. The rest is as mainstream as it gets.
Rohit Shetty's brand of cinema has churned big money at the box-office everytime, and it's unreasonable for us to expect he'd do anything different in this film. The only difference is he's jumped in as a producer to find an equal stake among the profits, which are again bound to be huge.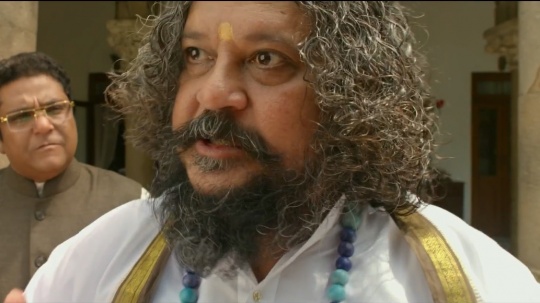 Singham Returns is Rohit Shetty's salutation to Mumbai Police, but not the salutation it deserves. Yo Yo's Grammy awesomeness in the end perfectly summarizes how I as an audience felt after watching the film – 'Aata majhi satakli.. mala raag yetoy!'
Overall Rating : 3/5