Pure art-cinema bliss this anthology is. Created under Anurag Kashyap's production banner AKFPL, this 88-minute venture packs in a riveting mix of five mini-films by aspiring filmmakers.
Shlok Sharma's 'Sujata' puts the first foot forward, and talks of a young girl (Huma Quereshi) who's been subjected to constant sexual and mental abuse abused by cousin brother. Escaping his clutches is just a brief joy, as he always hounds her down. Years of brewing anger brims up, and Huma can take it no more. Revenge is sought. The plot's well writ, and the brilliant cinematography and Huma's acting skill makes this one arresting watch.
Anirban Roy's 'Audacity' is a Bengali film that expresses the fragility of a father-daughter relationship. Lily (Preeti Singh) is a modern, pop-cultured rebel who questions her father's double-standards. The plot is very simple, is well-written, and touches your nerves at the right places.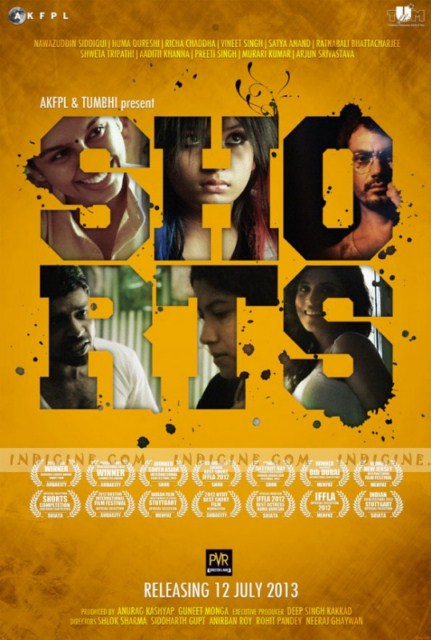 Siddharth Gupta's 'Epilogue' concerns the seclusion in urban relationships, and talks of a couple- a seductive woman (Richa Chaddha) who's still seeking the love of a guy (Arjun Shrivastav ) who's got no feelings for her anymore. The faltering relationship is almost at its end. Love and intimacy are taken over by possessiveness and lunacy, finally calling upon self-destruction. The plot concept is interesting, but the contrasting sound employed and the arbitrary close-ups in the visuals break the flow of the story. This I believe is the most frail link in SHORTS.
Neeraj Ghaywan's 'Shor' narrates the tale of a Benarasi couple paddling in Mumbai penury. The husband Lallan (Vineet Singh) is unemployed and scuttled, while the wife (Ratnabali Bhattacharjee) tailors clothes for the family's daily bread and butter. Stress induced by joblessness veins in the husband a suspicious mind for the wife, and their marriage is on the verge of breaking down. Death knocks their door, and they rediscover their long lost tenderness. This is THE best story in the series, and the sensitivity with which the subject is handled deserves an applause.
Another brilliant story follows in Rohit Pandey's 'Mehfuz', where the intense Nawazuddin Siddiqui is portrayed as a solitary gravedigger, whose social life is limited to corpses alone. He receives unidentifiable corpses from clients to cremate and bury. But one night changes it all, where a woman dashes into his life, being the silver lining his is darkly clouded life. The story is brilliant, but the hope-in-chaos concept is not believable. But 'believable' apart, this one deserves a definite watch.
The excitingly assorted offerings presented in Shorts- in terms of story, approach and gist, offer a worthwhile, satisfying watch. Highly recommended.
4/5