Servants of the Goddess -"the modern day devdasis". As I read the subtitle of the book, I did not really believe that devdasi cult still exists. And it was this defying attitude that made me read the book. But after finishing the book, I was left befuddled, for the facts not only proved my conceived notion wrong, but also left me deeply saddened.
This book by Catherine Ruby Kermorgrant brings forth the life of five modern day devdasis, their trauma, physical and mental abuse which they face, apart from the uncertainty in each and every moment of their lives. Catherine visits the Kalyana village in Karnataka, after deciding to make the documentary on the subject. The book explains in detail about the origin of devdasi cult, the position and lives of devdasis at the time of Bhakti culture in South India and sheds light on the differences between the conditions of the past and the present day devdasis.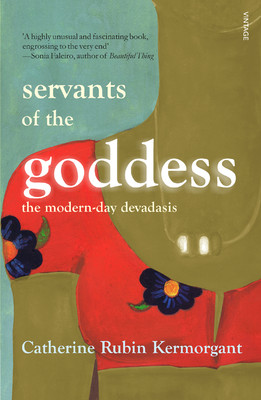 The book describes how it isn't just the blind faith in superstition which make women follow  this fertility cult and force families to dedicate little girls to Goddess Yellamma, but the abject poverty that has pushed women into this inextricable condition. One can not help but tag the so call modern India that we live in as a sham after reading about existing cultural bias and the failure of the government and the other organizations to address this issue.
The author had done a commendable research on her part, as some of the stanzas from the ancient texts and scriptures help readers to visualize the ancient south Indian culture. Some may argue that the book is another attempt by a foreigner to tarnish India's image on the global platform, but the author's emotional bond with the villagers as narrated in the book and the vivid descriptions of the traditions suffice in silencing its critics.
It became impossible for me to not to search for the existing documentaries on the system and read more about it on the net. After finishing the book , I wonder how can one determine the boundaries of extant legacies and traditions, so as to to make sure that they don't force the present generations into the shackles of superstitions, yet at the same time preserve their essence.
Overall Rating: 4/5
You may purchase the book from Flipkart here :

About the Author-
Born in France and raised in New York, Catherine Rubin Kermorgant studied Classics at Brown University and Anthropology at the London School of Economics. After working in film and television for a number of years, she began to research and write her own documentary films. One of her films, funded by the BBC and Canal Plus, led her to south India, where she spent several months learning about devadasis.