Korean electronics giant, Samsung launched a new range of their wearable devices – Gear Fit, Gear 2, and Gear 2 Neo in India for sale. The devices were supposed to launch on 11th of April, but are now up for sale through their official online store.
Talking about the devices, Samsung's Gear Fit is a wearable Fitness Band, featured with a 1.84 inch curved super AMOLED display with a resolution of 432 x 128 Pixels. Samsung is the first company in the world to feature this display in a wearable format. This little Gear Fit is packed with a Sleep Monitor, Heart Rate Monitor, and a Pedometer in it. Also it includes some classy built-in-functions like a fitness app, exercise mode, stopwatch, timer, schedule, smart relay, and a media controller. Additionally, it will give active notifications for Calls, e-mails, and Sms. It's weighs mere 27 Grams device, which measures in at 23.4 x 57.4 x 11.95 mm and is powered by a 210 mAH battery which lasts up to 3-4 days and can also last upto 5 days if the usage is low.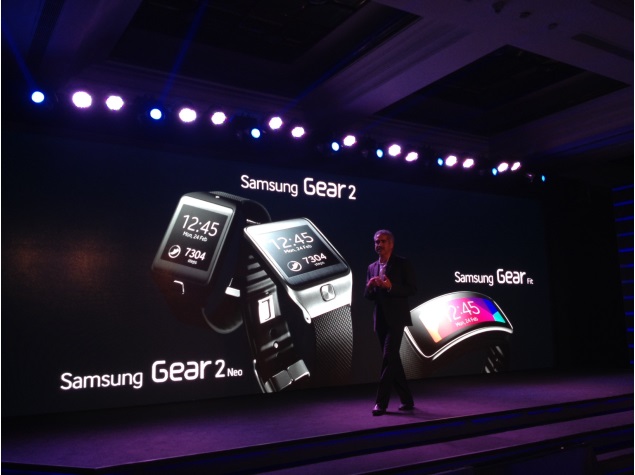 Now when we talk about Samsung Gear 2, it is a smartwatch, features a 1.63 inch Super AMOLED Display, a 2 MP Autofocus camera and a metal body.  Gear 2 is an IP67 certified Water and Dust resistant device which runs on Tizen operating system and includes features like accelerometer, gyroscope, heart rate sensor, IrLED and Bluetooth 4.0 LE. Additionally, it includes various tools to measure exercise, stress and sleep levels.
Now if we look at Samsung Gear 2 Neo, it is almost same as Gear 2, but with less features. Gear 2 Neo does not feature a Camera, but its battery can last up to 6 days.
The prices seemed to be on the lower side of what previously was stated. Starting with Samsung Gear Fit and Gear 2 Neo, who were supposed to be launched for Rs. 15900, are now available at a price of Rs. 15450. Also, Samsung Gear 2, a successor model of company's first smart-watch, reads a price tag of Rs. 21500 instead of Rs. 21900 as stated by the company previously.