South Korean technology giant Samsung will introduce to India its much-awaited tablets from the Galaxy Tab 3 series tomorrow. The Galaxy Tab 3 211 and Galaxy Tab 3 311 are all set to take the market by storm.
The Galaxy Tab 3 211 is driven by a 1.2 GHz Dual-Core processor with 1GB RAM. This variant of the Tab 3 sports a 7-inch TFT display with a resolution of 1024×600 pixels. In-built memory options are 8GB/16GB externally expandable up to 64GB. It runs on Android v4.1 (Jelly Bean). The device comes equipped with two cameras- 3-Megapixel camera on the rear side and a 1.3-Megapixel on the front. Connectivity options include HSPA, Wi-Fi, Bluetooth v3.0, USB 2.0 among others. The tablet has been priced at Rs.17,745.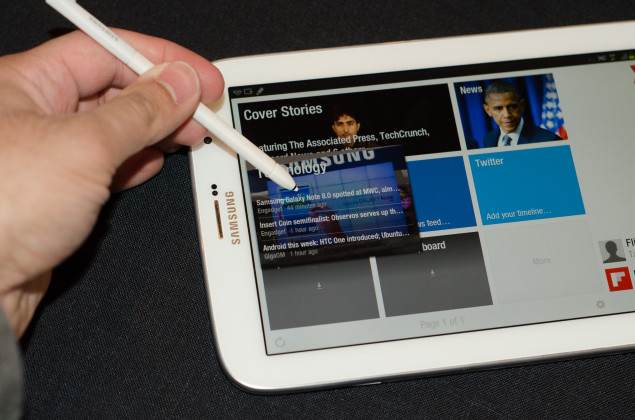 The Galaxy Tab 3 311 is powered by a 1.5 GHz Dual-Core processor along with 1.5GB RAM. It holds an 8-inch TFT display with 1280×800 pixels resolution. The Tab will be available in 32GB and 64GB options with regards to internal memory which is expandable up to 64 GB via a microSD card. The tablet is a dual-camera device with a 5-Megapixel rear camera and a 1.9-Megapixel camera on the front. It runs on Android v4.2. A 4,450 mAh battery fuels this device. Connectivity options comprise of Wi-Fi, Bluetooth v4.0, USB etc. The price tag attached to this tablet reads Rs.25,725.
Samsung Galaxy Tab 3 211 Specifications
–       7-inch TFT display with 1024X600 pixels
–       1.2GHz dual-core processor, 1GB RAM
–       8GB/16GB internal storage, expandable up to 64GB
–       3-megapixel rear camera, 1.3-megapixel front facing camera
–       4,000 mAh battery
–       Android 4.1 (Jelly Bean)
–       HSPA, Wi-Fi, Bluetooth 3.0, USB 2.0
Samsung Galaxy Tab 3 311 Specifications
–       8-inch TFT display with 1280×800 pixels
–       1.5 GHz Dual-Core processor, 1.5 GB RAM
–       32GB/64GB internal storage, expandable up to 64GB
–       5-megapixel rear camera, 1.9-megapixel front facing camera
–       4,450 mAh battery
–       Android 4.2 (Jelly Bean)
–       HSPA, Wi-Fi, Bluetooth 4.0, USB 2.0