Rush has to be one of the most satisfying auto-racing movies ever made. If at all, like me, you're not too inclined towards the Formula 1 heat, this movie makes sure to boil that hidden interest within you. Writer Peter Morgan and Director Ron Howard have scripted this story with such comprehension that even an F1-ignorant guy finds the biopic compelling.They've trashed all the conventional cliches to offer a stylishly gripping film.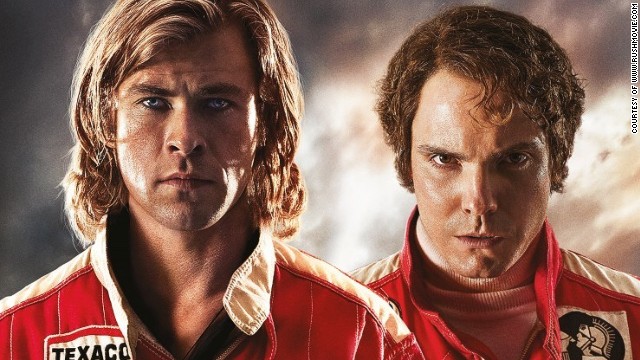 The laps are set in 1970s, where two high-profiled speed racers set out to prove their dominion in the contest. Spoiled playboy James Hunt (Chris Hemsworth, Thor fame) comes across as a risk-taker who claims to be unafraid of death during a race, and believes racing to be his passion. Opposite him stands the no-nonsense and practical guy Niki Lauda (Daniel Bruhl, Inglorious Basterds fame), who considers racing as just another profitable venture. The two hit the wrong notes early on in an F3 race, and their rivalry keeps skyrocketing to epic as they get promoted to F1. With James finding abode in McLaren and Niki earning his place in Ferrari, these two bare both their considerate, insecure and apathetic sides throughout the film, without adding an ounce of melodramatic crap to this awesomeness.
The film beautifully narrates the personal dynamics between these two racers. The actors have portrayed the F1-racing heroes extremely well, and while the looks came pretty close, the way they've worked on getting their oddities right deserves appreciation. The cinematography captures very well the overall essence of an F1 race- right from the adrenalin-pumping speed to the circuit layouts to to the numerous car-crashes to the hysteria celebrated by the B&W checkered flag. Anthony Dod Mantle, respect. The aesthetics of the frames are well-maintained, and the edits come clean. Humor is well sketched, and we Indians shall have an additional laugh at Sr. Lauda's disapproval of Nick becoming a racer, saying that the name 'Lauda' suits just businessmen, politicians and economists. Cheap, but haha. Also Niki's witty retorts during the press conference had us chuckling.
Rush has everything going its way- from subtle wit to cheeky spunk, and to know that this is no Hollywoodized version of some story, but an actual chronicle of real life characters fleshed out on screen is a further spur.
Overall Rating: 4/5