We now find ourselves in a post-Queen era, where Kangana Ranaut as an actress is to be taken seriously. Very seriously. Pretty much like in Queen, the actress is trying to discover her individuality in the dusty city of Chambal, as she grows up from an undesired girl to a terror personality going all crazy on her guns.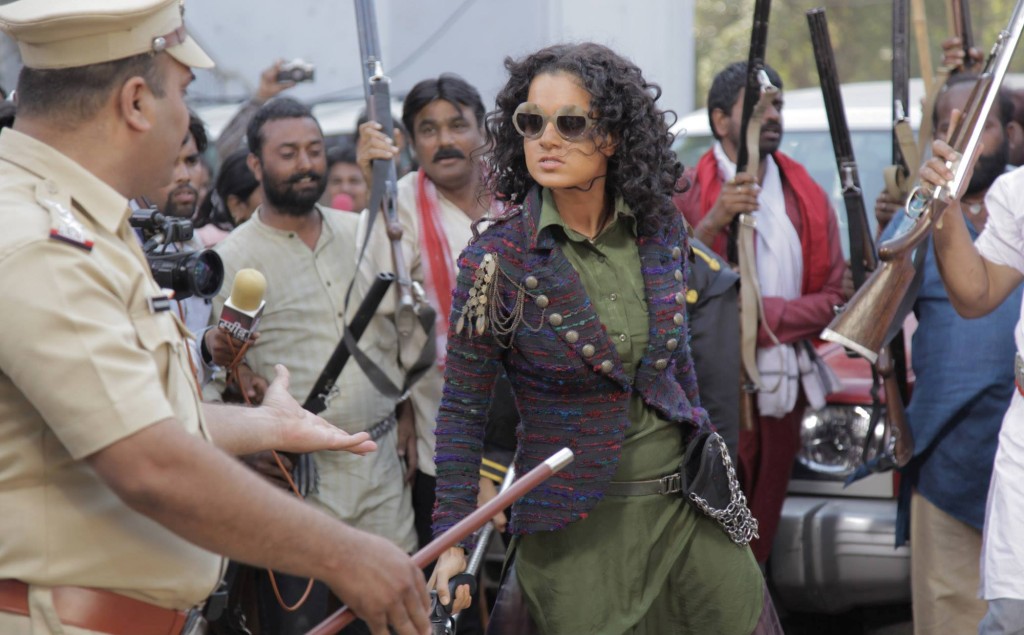 Alka Singh (Kangana) has been expelled from her political reign by the Tomar family headed by three brothers. Alka, with the help of her uncle Balli (Piyush Mishra) tries to win back her lost power by championing for the adivasis whom the Tomars cheated out of their land. In a parallel run, Alka is all weak-kneed for a struggling actor Rohan Kapoor (Vir Das), whom she first sees in an underwear contest. Rohan now wants to use Alka's power to push up his own career, but ends up caught in all the political frenzy.
While the first half of the film passes breezily, it's the second-half that takes a rather unwanted turn. The climax is an open invitation for a sequel, but the sheer lack of intensity with which it's shot disappoints. For the concept that the film initially brewed, it is but sad that the concoction wasn't properly treated.
Revolver Rani could be 2014's best Bollywood black comedy. This film is hugely inspired by Quentin Tarantino's stye of film-making, as if following the director's fixed template. More than the script itself, it's the superb performances and the hilarious pieces of interaction between these characters that make the film worthwhile. The dialogues bring out Chambal's rustiness in its language and humor. The background score for the film is among the best thing that happened to it – none too mainstream, but each uniquely entertaining all the same. Editing is well handled.
Kangana delivers a great performance, except for a few scenes where it feels as if she's way off the top.  Piyush Mishra needs no testimony to certify his acting merit. He's his usual brilliant form in this film, pulling off a perfectly loathsome character. Zakir Hussain and Kumud Mishra are in top form too. Vir Das is his usual self, and maybe the sole letdown of the film. Then there was that TV anchor in the film who got the best lines to mouth in the film, and he's the one who walked away with maximum laughs.This film tried to be epic in its own way, and it had the required potential too. Great subject, great acting, great direction, but somewhere the film's treatment dulled its awesomeness.
Overall Rating: 2/5