Bollywood is at the height of desperation, and it shows. There's too much out there to explore- story, perspectives, ideas, emotions – but most of the filmmakers are sticking to the tried-and-tested formula. Prabhu Dheva's R… Rajkumar too is a similar embarrassment, that hopes to drive home on Shahid Kapoor's star power, which sadly at present, isn't much.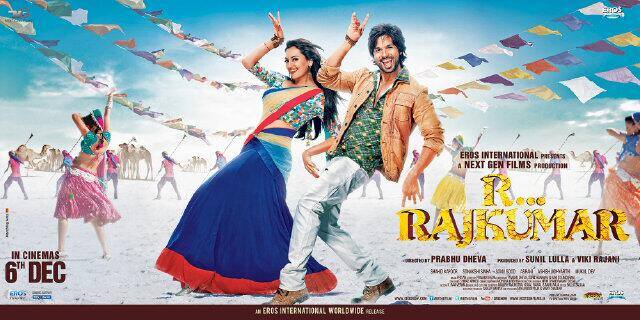 Our protagonist is R… Rajkumar, where the R.. stands for Romeo (Shahid). Duh! Now Romeo here mouths cheap 'Gandi Baat' at every other instance, in an attempt to pursue his love Chanda aka Lollypop (Sonakshi- and yes, our hero does call her lollypop). Chanda gives in to his advances and they both make a happy pair. And this happiness is an itch for the hooligan Sonu Sood, who had his eyes on Chanda for a while. Once Upon Ay Time In Mumbaai Dobara repeats itself Dobara, where the hooligan and our protagonist working under him both heart the same girl. Begins the grand saga of pyaar pyaar pyaar and maar maar maar, and do I really need to tell you who gets the girl?
I was as uninterested in watching this film as Sonu Sood was while acting in it. He's got the worst of jokes to crack, which our hero responds to with the worst punchlines ever. Sonakshi continues doing what she does best- submitting herself  to cheesy morons. The seasoned Asrani is pretty badly shamed for a few laughs, and it was this awkward moment when laughs never happened. Shahid has given his flesh and soul to his role, but sadly he's no Salman Khan, and it would take time before the mass can accept his punching tens of bad guys in the air. Kaminey was an exception, as there the script had a lot to offer.
Screw the music and screw the technical details. There's not a single thing in these segments that could be brought onto the table and discussed. Save yourself a Crocin tablet, skip R… Rajkumar.
Overall Rating: 1/5