Private India is my first Patterson and fourth Sanghi, and having read all of latter's earlier works and having heard of the famous James Patterson as a crime-thriller master, I knew I was holding a book-mine that'll burst with historic facts dipped in insane adrenalin the moment I started with the prologue. This book is an ode to the maximum city -Mumbai, with the many trivia and history that's associated with the city peppered throughout the story.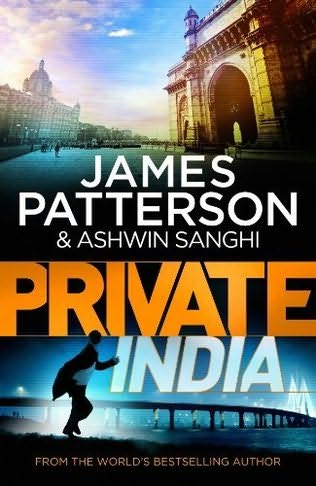 Unfortunate local train bombings in Mumbai, quickly followed by a murder is how this book begins. The murder in question happens in a resort, security of which is managed by Private India. Ex-cop Santosh Wagh, now head of Private India, is called upon to investigate the matter. Santosh is specially appointed by Jack Morgan, a former CIA who heads Private Inc. One murder follows the other, and soon Private India team is chasing a serial killer who leaves specific clues/props at the crime scene – a hair from a single person, and a yellow scarf that was used to strangulate every single victim were two common items the murderer left everywhere. (Pretty much as in the film Ek Villain, but totally different motivations). Were the props just to distract the cops from finding the culprit, or was this whole affair of a greater, religious significance? There are two plots running about in the book – One, where the serial killer is to be nabbed. Second involving Pakistan ISI, where a mission is being planned to stage another bomb attack in Mumbai.
The religious angle portrayed in the book is one of the most exciting one I've read in recent times, involving bygone Thuggie cult of murderers, but it was a disappointing lead as the flow was cut hurriedly. Till this point, the book held page-turning tension, but post this, that tension totally liquidated. I was most disappointed with the climax, which has its unpredictable twist for sure, but lacks any tension whatsoever. Imagine yourself in a situation where you've got just 20 seconds to act, and on account of the act there's a fair chance that you may survive. High tension point, right? Not for Private India, it ain't. There's a goon who's shown to be very influencing and menacing rascal from the very start of the book, but who turns totally meow at the climax. Ah! Talk of juicing out the negatives and giving the entire script a candy-flush.
Several key issues are brought into picture in the process – prostitution, politics, films, godmen, transsexuality, etc, which are not properly debated/detailed. These are just elements used in this book to make it more film-worthy (..soon a Bollywood director will be announcing this book's film adaptation as his next project, I'm sure.) The cast is even presented such. Santosh Wagh is your typical shattered intelligence, who has lost everything on personal front and so has nothing to lose on the professional front. Rupesh, a police inspector and once Santosh's best friend, who has lost all the friendliness towards him following an incident. And the serial killer, who could've been the most dreadful villain in the bookish universe had the story not lost it in the end.
Majority of thrillers are entirely plot-oriented, and leave very less room for character or background detailing, and while the book managed to decently cover the latter, it's the former from which I expected a lot more. The backstory is very weak, and is definitely not enough motivation for a person to go on a killer spree. The quality of prose is again something that's not the high-point of the book, but what's written ensures excitement.
At the end of the day, what matters is this book had me turning all its pages in a single sitting. 450+ pages may look like a lot, but given the font size and several chapter breakages, it's a very breezy read indeed.
Overall Rating: 3.5/5
You may purchase the book from Flipkart here :