Ashwiny Iyer Tiwari's debut film is about a housemaid's dream to see her 15-year-old daughter educated and not face the same hardships and humiliations in life that she's been through. But what if the daughter has no interest in pushing the envelope and has limited her career to become a housemaid one day, just like her mother. This is a beautiful subject loaded with good content, and though at times the film comes off a little high on preachiness, it does touch your heart.
Chanda (Swara Bhaskar) is a maid shuffling multiple jobs so that she may arrange a better life for her daughter Apeksha (Riya Shukla). She's worried that her daughter might not clear the tenth board exams, and in a move that causes major embarrassment to the daughter, Chanda joins the same school as a student upon her employer's (Ratna Pathak Shah) pursual. The common ground between the two students – mother and daughter – is that they're equally dumb when it comes to mathematics, but Chanda starts getting a hang of the subject and gets better at it, and for her to leave the school her daughter would have to score more marks than her.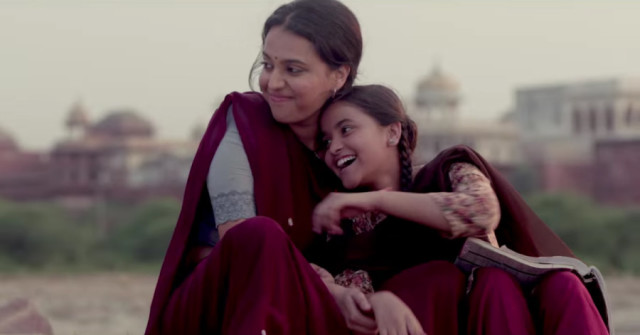 Apeksha's ungrateful attitude towards her mother is disturbing initially, but that's just about what the mind can think up and the mouth can speak when it's 15 years old. The effects of her brash words on her mother are heartbreaking, but the ever-optimistic mom soon gets out of it and tries to feed sense into her child the best way she sees fit. Swara Bhaskar has done a brilliant job with her character portrayal. Riya as the unreasonable and sometimes insensitive teenager is a natural in front of the camera. There are times when we look down upon her immaturity, but we've done the same thing to our parents during our adolescence. Pankaj Tripathi as the comic school principal is an absolute delight.
There are many minor characters in the film, mostly the school students, who further add to the sweetness, and it's mostly in those school scenes where you'll feel extremely nostalgic of your own hay days.
The film does glorify education, highlighting the usefulness and the importance of it, but more importantly it's about a simple mother-daughter relationship and how the duo bond over the hateful subject of maths.
Overall Rating: 4/5