There's constant barking from inside of a locked flat and when police open the door to investigate the cause they discover a woman's body lying in a pool of blood, with a Labrador dog silently looking at it. From the gathered evidence the police conclude that this very dog (Sandy) has murdered the woman, and the case files are closed. Now the insurance company hires a private eye Vyankatesh Bhonde (Prashant Damle) to investigate the real cause of the murder, worried that it might have to pay the heavy claim to the deceased's husband Vinayak Bhandarkar (Subodh Bhave). Bhonde, an ex-cop and now a private investigator, has his own personal web to untangle, and this whole investigation turns personal for him in a way he never imagined.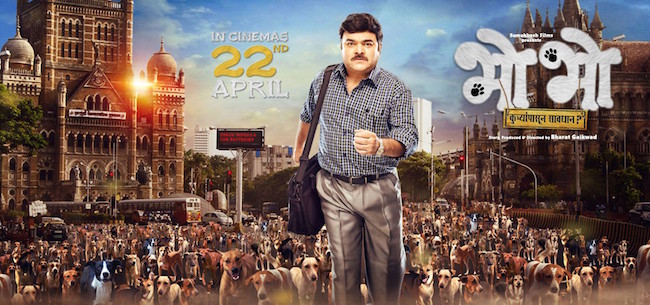 Marathi cinema rarely outs a murder mystery, an effective one at that, and original scripts like Bho Bho are a welcome bark. The film just short of becoming a Turner and Hooch, but the concept is so good that the initially faltered execution is more than made up for. If you've read Agatha Christie's Dumb Witness, you might even draw parallels with that particular story and Bho Bho, and it might be a child's play for you to point out the main culprit post-intermission.
Prashant Damle as the investigator is a total delight – both in the comic scenes while in investigation and in the serious scenes where Damle's fighting his personal demons. Equally good is Bhave as the deceased husband, and his mistrust in Damle's character is so well placed. Saurabh Gokhale with all his portrayal of rage and aggression is good. What irked me performance-wise was the stereotypical representation of the Gujarati family and of the Nepali security guard. There was absolutely no necessity of a badly reproduced Shaabji when things could've been kept subtle with Saheb.
Written and directed by Bharat Gaikwad, the film is excellent mostly and could've been bettered in some parts. A few little details that would have covered the logical grounds more smoothly are missing, and filling this up would've significantly improved the quality of this film. The dialogues are mostly fun.
Personally Bho Bho worked for me more as a simple story than a murder mystery itself, maybe because I was able to predict the character, if not the plot, but I enjoyed it nonetheless.
Overall Rating: 3/5