Yes, you heard it right. Now get your pizza delivered through an aerial route! A Mumbai based pizza outlet, Rancesco's Pizzeria, used an unmanned drone to get their pizza delivered, first of its kind in the country. Though it was just a trial run, the owner Mikhel Rajani is looking forward to stretch legs and make full use of this wonder in years to come.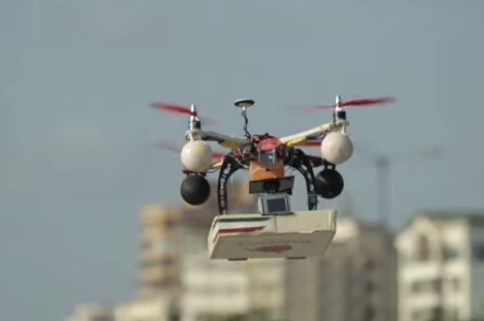 As per the chief, they got this concept from E-commerce giant Amazon, of its plan of using drones to get their orders delivered. The test run was successful and the drone delivered a pizza to a customer located 1.5 Kms from their outlet on May 11. It is a four rotor drone which fled with the order from company's outlet in central mumbai's Lower Parel area and delivered the pizza on a high rise building in Worli.
Rajani basically comes from a family with a background in textiles, and believes that by using drones a eatery enterprise can cut down significant amount of time. He said, "What we have done now will be common place in the next four-five years," while adding the price of these customized drones around USD 2000.
Presently there are many regulations – like the drone can't fly over 400-feet altitude, it can't fly over security establishments. The American Federal Aviation Authority's regulations on usage of drones, expected 2015, should help. Apart from this, the drone has a limited carrying capacity, which can be increased to up to 8kg using an eight-rotor drone.
As it was the first of its kind, the company has made an exciting video. Let's have a look, shall we-