I have been a Stephen King fan since many years now. Lately, majority of my contact with King's works has been through the adaptations of his several books as movies or mini-series, but I did get more kick in King's verbosity compared to the adaptor's artistry, as the author develops all his characters to be the high points of the book, while the adaptations focus more on the plot.
Mr. Mercedes, in the author's own words, ishis first "hard-boiled" detective novel, so I was eagerly looking forward to how he delinks his narrative style from his recent horror/supernatural/fantasy-mode to the detective thrill mode, and I wasn't the least bit disappointed. You don't need to be at gun-point to finish the novel in one sitting, you'd simply be forced to move on to the next page, and then the next, till you reach the last page last word with a smug satisfied smile on your face.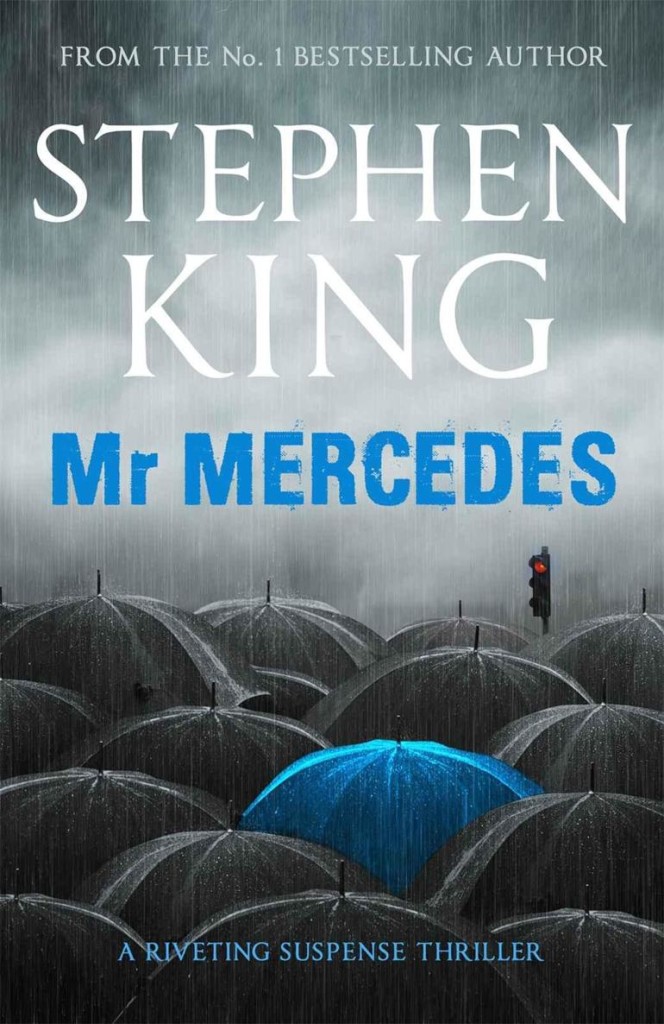 The book begins in 2009, where recession is at stronghold in a midwestern city. Unemployed desperates are queuing up in thousands at a job fair being held in a stadium, where suddenly a Mercedes SL500 squeals out of the fog and runs through a section of the line, killing eight and injuring fifteen. Sounds poetic – Luxury killing the deprived? Was this an attack or an accident? Was it, in any way, politically inspired? An year later, the killer – Mr. Mercedes – is still at large. Meanwhile, retired detective Bill Hodges, who was working on the case, is considering suicide when he receives a letter from Mr. Mercedes, and here onward the novel picks up pace and it's actually quite interesting to read how both the protagonists bait each other. The detective, obsessed with the thought of nailing the killer, calls in his tech-savvy teenager friend Jerome to help nabbing the killer before he attacks another crowded venue in a similar fashion.
While the main cast keeps you hooked throughout, the supporting cast is equally interesting. The killer's mother, with whom the killer shares an inappropriate relationship; and the killer's sister, a modern sassy girl who goes on to become the detective's girlfriend – both are equally fascinating. Character detailing, which comes pretty naturally to King, is the highpoint of this novel. At some parts the novel seems more like a character study, with all their psychology laid bare. Stating that you'll remember these characters for a long time to come would be an understatement. Several perspectives to a single view, I'm a huge fan of this, and King lays it out pretty well here (Before Mr. Mercedes, I last enjoyed this style in Jeffrey Archer's 'Clifton Chronicles'). Background has been neatly sketched too, and makes visualization easy. The plot is well structured, and while there are a few logical leaps in the story, you don't mind excusing them for the greater tension that's packed in the script. Excuse some irrelevant sub-plots even.
In sum, Mr. Mercedes may not be one of King's best, but it's enjoyable much and pumps enough blood in its suspense. With a climax as unpredictable as its plot, I'd recommend this book to every reader who loves the thriller genre.
Overall Rating: 4/5
You may order the book from Flipkart here :

About the author:
Stephen King is an American novelist and short story writer. Best known for his books:Carrie, Cujo,the Dark Tower series and the Shining, King is considered one of the greatest horror writers in this generation.
Mr. Mercedesis the first book in a projected trilogy, and its sequel, Finders Keepers, is due for publication in 2015.