There have been collaborative projects in the past, but it's for the very first time that we see twelve different directors contributing their portions for a single plot. And herein lies the magic. At nearly 2.5 hours, this film has you glued to your seats, as you testify to one of the finest mysteries cooked up on the celluloid.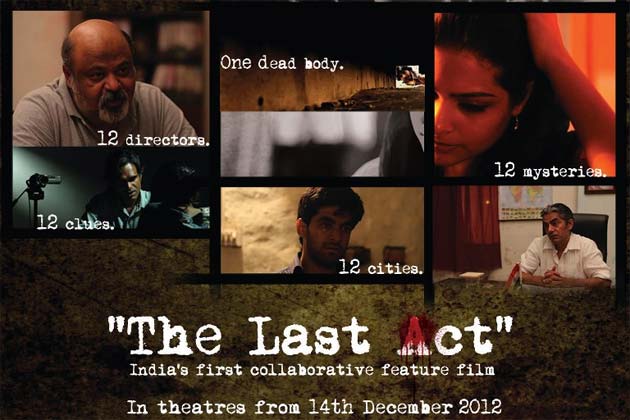 The opening sequence presents a brain-bashed, blood-splattered corpse, around which lie 12 different items clueing off to 12 different cities. The first clue, a ticket to a play, brings into the investigation the director of the show (Saurabh Shukla) who has nothing to input on the corpse's ID. Having received no knowledge of the corpse, it's now up to the police to puzzle out every single clue to determine the identity of the corpse in their possession, and for this they extend out to the twelve different cities with assorted clues including poetry behind an ATM slip, a pair of glasses, and a blood-stained map among others.
The biggest plus of this film lies in the manner in which all the stories are hemmed up to form a whole (not an easy task, but impressive anyways for the first of its kind), presenting a rather romantically philosophical thriller to the viewer. Of course, a few stories do dull down the thrill in a few parts, but otherwise the necessary chills are delivered pretty well. The new directors impress in their debut venture with their distinct style of film-making and brilliant cameraplay laced throughout the film, making it compulsive for the viewer to sit down and unravel the rest of the mystery. And the acting department scores pretty big, with every single face delivering top-notch performance.
Anurag Kashyap, Sudhi Mishra and Chakri Toleti deserve special applause for working out this brave project. Brave indeed, for the twelve different directors with their twelve different mindsets do not plot an even graph. It's the sheer bumpiness of this film that differs it from the rest in its genre, infusing a cinematic freshness that blows your mind. We do hope to witness such collaborative efforts in the cinematic field every now and then, for the rawness of such films does well to tingle some sophisticated minds.
Section-wise rating below: