I am a massive David Dhawan fan. His hold on comedy in the 90s was legendary and timeless and is still vastly underrated. Hence, it pained me immensely watching movies like Shaadi No.1 and Partner, where comedy meant weird faces, high squealing sounds and… and that's it! It was with much caution that I went to watch Main Tera Hero, his latest offering, a remake of the Telugu film Kandireega.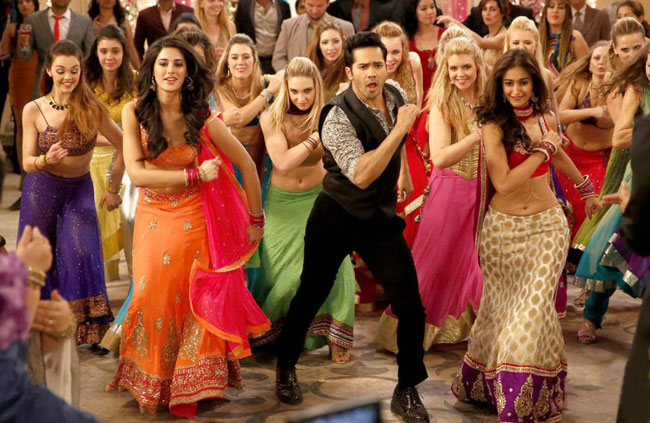 Main Tera Hero stars David Dhawan's son Varun Dhawan as Seenu, a 'haraami' in his own words who saves girls from goons and gives them a lesson in courage when he is not making others' lives hell. On his first day of college, he falls in love with Sunaina (Ileana D'Cruz) unaware and unabashed of the fact that the dirty cop Angad (Arunoday Singh, or was it Sonu Sood) is also in love with her. Another major player in the 'story' is Ayesha (Nargis Fakhri), your clichéd daughter of an international don who fell in love with Seenu the first time she saw him.
But anyways, you don't really watch a David Dhawan movie expecting a layered plot and a tight script. Even at the peak of his powers, his movies were more about gags dished out at a rate of 5 per minute out of which 4 would make you laugh. And it all seemed so improvised that you couldn't help but laugh with the actors who seemed to be having a ball themselves. Some of that charm, I am pleased to announce, returns in Main Tera Hero. Despite the 1st half mostly being a summary of what went wrong with DD in the last 10 years, it picks up nicely in the 2nd half when the foils like Anupam Kher and a hilarious Rajpal Yadav (missing since Chup Chup Ke of 2006) are given more screen time. Plus there is Nargis Fakhri who plays the bimbo to perfection. I would have called it a natural act had I not seen and enjoyed her wit in Koffee With Karan. It is the funniest when they all are in the same frame and DD forgets for a moment that this movie is a starring vehicle for his son.
Varun Dhawan, as @NotSoSnob very aptly put on Twitter, is like Govinda and Salman Khan's lovechild. He has a terrific comic timing in some portions, and is immensely likeable. Not there yet, but he's getting there.
So all in all, the movie has 3 hot bodies to look at (including Evelyn Sharma as Anupam Kher's girlfriend with boobs spilling all over the place), full on 90s songs (complete with OTT expressions and ugly ass back up dancers), Rajpal Yadav and a mildly funny Anupam Kher and Varun Dhawan going for it. What it doesn't have is consistently passable writing, logic and Govinda. It's not Dhawan's best after all. But in the absence of anything funny, this will do for the time being.
My Rating – 3/5