Boy loves a damsel-in-distress girl, she too loves the saviour Boy. A mafia's daughter falls for the same boy and a violent man avenges the same guy… All too hilariously confusing? Of course, after all it's a "David Dhawan" movie – with a capital "D".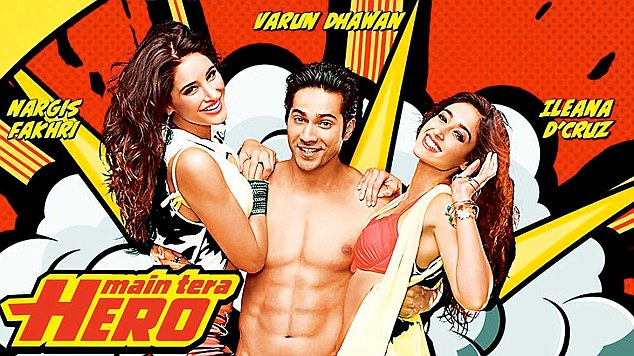 The story goes on like this – When Seenu (Varun Dhawan), a smiling guy with a devil-may-care attitude falls for a sugary-sweet Sunaina (Ileana D'cruz), her tormentor Angad (Arunoday Singh) resolves to avenge both. On the other hand, a spunky bombshell Ayesha (Nargis Fakhri) is totally besotted with Seenu and wants him at any cost. Alas! she has a dangerous mafia dad who wouldn't take no for an answer. Well, amidst the romance there is an impending danger for Seenu. Trapped between the devil and the deep sea, poor Seenu unleashes the "hero-giri" in him and then start the crazy bike-chases, bullet-dodging and poster-tearing grand moves leading us to laugh and stroll down the memory-lane of good ol' Govinda-starring Dhawan movies. Main Tera hero is a lively, zesty movie with non-tiring actions of cliched James-Bond moves. Along with the songs, the sequences shot are peppy.
Dhawan boy totally rocked. With his chillaxed performance, he does manage to make us laugh. Just two-films old, he is brilliant in the comedy genre. Ileana was a typical girl-next-door and Nargis was a gorgeous Seenu-smitten diva. She has come a long way in terms of her expressions. Rest of the cast fitted in perfectly. The film radiates the same old vibes of a David Dhawan film. The storyline was average and although, it's a comedy full of errors and doesn't make much sense, you can pep yourselves up amidst the exam/politics fever.
PS: Ahoy! Govinda Fans, you won't be disappointed if you are looking for a slapstik comedy.
Overall Rating: 3/5