INS Vikrant- India's first Indigenous Aircraft Carrier (IAC)- which is to be launched today, is the biggest warship to be developed in India. The launch of this carrier marks the entry of this nation into a select group of nations capable of developing and building a carrier of this magnitude. The carrier's flight deck is twice as big as a football field, its power (24 MW) can light up the entire Kochi city and its cabling is long enough ( >2,500 km power cabling) to span the distance between Kochi and Delhi. Developed at Cochin Shipyard Limited, the IAC is anticipated to be Indian Navy's centrepiece, and in the future the carrier shall be equipped with all the modern weaponry systems like long range surface-to-air missiles (LR SAM) and close-in weapons system (CIWS) among others. The aircraft carrier shall be launched into water by Elizabeth Antony, wife of Defence Minister AK Antony. Likes of the indigenous Light Combat Aircraft (LCA), MiG-29K combat jets and a range of helicopters shall be deployed on the carrier.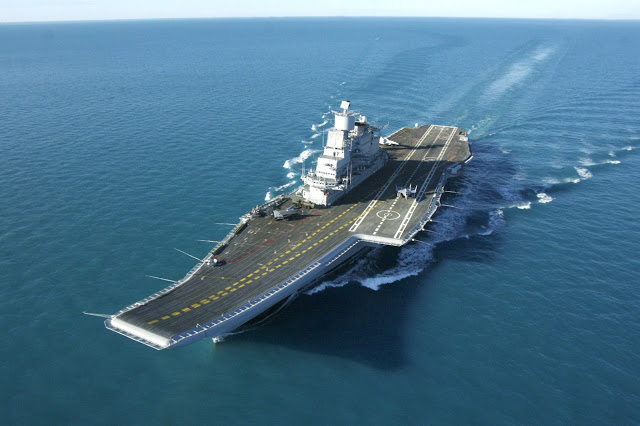 Commodore Saibal Sen, additional principal director, Naval Design stated that the dimensions of INS Vikrant is 260 meters in length and 60 meters in breadth, while it can attain a maximum speed of over 28 knots (56 kmph). He added that the carrier can deploy over 30 aircraft and helicopters. The aircraft carrier is expected to have an approximate displacement (weight) of 18,500 tonnes at its launch.
The warship is decorated with flags, colorful umbrellas and buntings to reflect the merriment of the personnel who've toiled hard for years in order to put in place the carrier's structure and install gas turbines, gear box, engines and other heavy machinery. The major outfitting of the carrier shall be finished by 2016 after which extensive sea trials shall be conducted. Once all trials are positive, the vessel shall be delivered to the Navy by 2018.