"History is a catalogue of mistakes.
It is our duty to profit by them."
-Liddle Hart
Gauging from the title of the book; it could be easily conjectured to be an autobiographical account of an ex Army Chief, but it is not and for the better. 'India's military conflicts and diplomacy' is an analytically conceived, strategically sound, and authentically enlightening historical account of country's diplomatic events and processes involved in decision-making at political and operational levels. The author though being one of the most illustrious army chief's, has succeeded in keeping it simple, with minimal use of martial jargon. At the time when there is huge hue and cry for democracy to be 'transparent' and open regarding its decision-making procedure, the book comes forth as a welcome 'beacon of hope'. The greatest USP of the book is-for the first time an attempt has been made to set forth the various ministerial interactions and decisions aimed at policy-making, in public domain, to which only a handful of senior officers until now had been privy.
The book can be seen to be elegantly compartmentalised into 4 effectual sections- Indian Army's various operational undertakings, it's international ties, the Management of Defence-Historical and Futuristic perspective and of course diplomacy. The operational activities include an account of 'Operation Pawan' which involved deployment of 'Indian peace keeping Force' to resolve ethnic problem in Sri Lanka, inside story about Indo-Srilankan accord, resulting conflict with LTTE, and ensuing circumstances that led to the assassination of our own Prime Minister, Rajiv Gandhi. Little known 'Operation cactus' describes the story of setting of a new politico-military benchmark by deployment of Indian troops to rescue Maldivian President Maumoon Gayoom from rebel forces, in one of the lowest nation above sea-level on earth.
'Operation Shakti' is a detailed account of establishment of India as a nuclear weapons state, its nuclear doctrine and role of politico-diplomatic-military synergy in the same. 'Operation Khukri' relates to the action of our troops, providing security and assistance in a small province of Sierra Leone, on the west coast of Africa, at the behest of United Nations Peace keeping operations.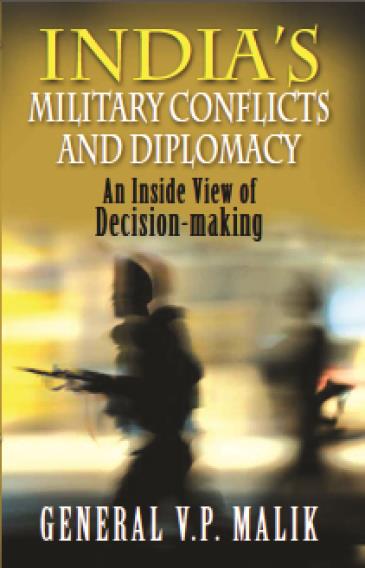 The author does not at all disappoint in narrating 'Operation Vijay' a tale about Kargil conflict, which every citizen in the country is curious to know of and is equally proud to beheld. The exhaustive details about the political background and restraint, operational planning and execution, the politico-military interface during and after the war and the lessons learnt, are all well explained in depth and to the core. The book provides considerable insight into diplomatic ties of India with various countries as China, United States of America, Nepal etc. focussing on 'military diplomacy' which if explored adequately could act as a significant catalyst in strengthening international relations. 2-3 separate chapters have been dedicated to bring home the very point.
Author also sheds a light onto the organizational and attitudinal weaknesses in country's higher defense management, incorporating various valuable recommendations and changes needed to be assimilated into the system, for eschewing the arrogance of political leadership to evolve a bipartisan approach.
All in all the book is a great read for military buffs and anyone who's interested into discerning the know-how of what goes into policy planning and strategic decision making at the highest levels of hierarchy. It is a genuine effort by the author to bring about awareness about defence matters in public mind, significance of which is very vital and crucial for Indian democracy, especially when, it is being touted as the next 'super-power'. Truly a delightful and informative read!
Rating: 4/5
About the Author:
General V.P. Malik, Chief of the Indian Army from 1 October 1997 to 30 September 2000, writes about his experiences in the field and important strategic events in which he was involved during his service. He has focused on decision-making processes that were followed at the political and military strategic levels as well as at the operational level. In India, such important decisions are seldom recorded in detail—almost never made public. Hence it is difficult to analyse these events in perspective, or learn lessons from them for future generations. The problem gets exaggerated for the armed forces. Despite the important national security roles envisaged and expected from them, they are seldom in the loop at the planning level. And when included in the loop, only a handful of senior officers are privy to the ministerial interactions and decision-making.
In India's Military Conflicts and Diplomacy the author tries to address problems arising from such practices. He writes about defence and military diplomacy and provides a historical as well as futuristic perspective on India's higher defence management.
You may buy this book from Flipkart here: