Amul pilots India's first 24×7 milk ATM called 'Any Time Milk' at the gate of Amul Dairy in Anand town of Gujarat. As per Rahul Kumar, MD of Amul Dairy in Gujarat, this is the first time anyone's trying this concept in India. He says, "The milk pouches are kept in the automatic dispensing machine which also keep milk pouches chilled under 4 degrees." The machine can accommodate 150 pouches of 300 ml milk, priced Rs 10/- each.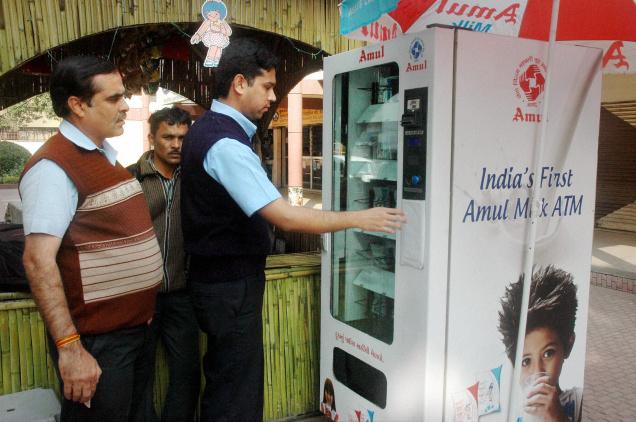 The machine is designed to sense only Rs 10/- notes, and after sensing a note one pouch of milk shall be dispensed from the bottom. A few machines shall also be installed in the rural areas to monitor the feedback. "If all goes well, other markets of Gujarat and other states will be tried out,' says Amul." Each and every machine is managed by a differently abled person. "We provide employment to such people who can put milk pouches in the machine, inform dairy if more supply is needed and also to provide Rs 10 note to consumers," says Kumar.
The feedback received so far has been good. About 200 pouches are dispensed from midnight to early morning, so it's really proving to be of use to the people at odd hours.