Making a turn-around with their bilateral ties, India and Australia on Wednesday settled to launch negotiations for the civil-nuclear pact during the talks between Indian Prime Minister Manmohan Singh and his Australian counterpart Julia Gillard. Both Prime Ministers agreed for annual meetings being held at summit level for the launch of a Ministerial-level Dialogue on Energy Security to commence negotiations for the Agreement on Transfer of Sentenced Persons, besides signing four pacts.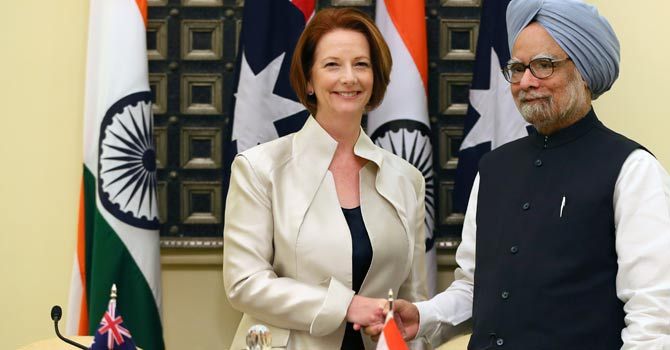 "Substantive discussions on measures to give greater content" were held between the two leaders, after which Indian PM stated that the "relations between India and Australia are characterised by expanding trade and investment, defense cooperation, education and cultural linkages and people-to-people interaction". "We are also developing wide-ranging cooperation in defence and security issues, including the fight against terrorism, in all of which we regard Australia as an important partner," he added addressing media people.
Australian Labour Party has segmented a new policy on uranium sales to India. "This is recognition of India's energy needs as well as of our record and credentials and I have expressed to Prime Minister Gillard our India's appreciation of this development," Mr. Singh added. Four MoU's are signed in the presence of both the Prime Ministers included cooperation in the field of wool and woolen products, cooperation in student mobility and welfare and cooperation in civil space science, technology and education.
Source: Business Standard