If you've read Tinkle Comics, it's impossible you won't recognise Abhijeet's art instantly. He has one of the most distinct styles among Indian illustrators today and I had a pleasure of having a small conversation with him during Comic Con Mumbai 2014.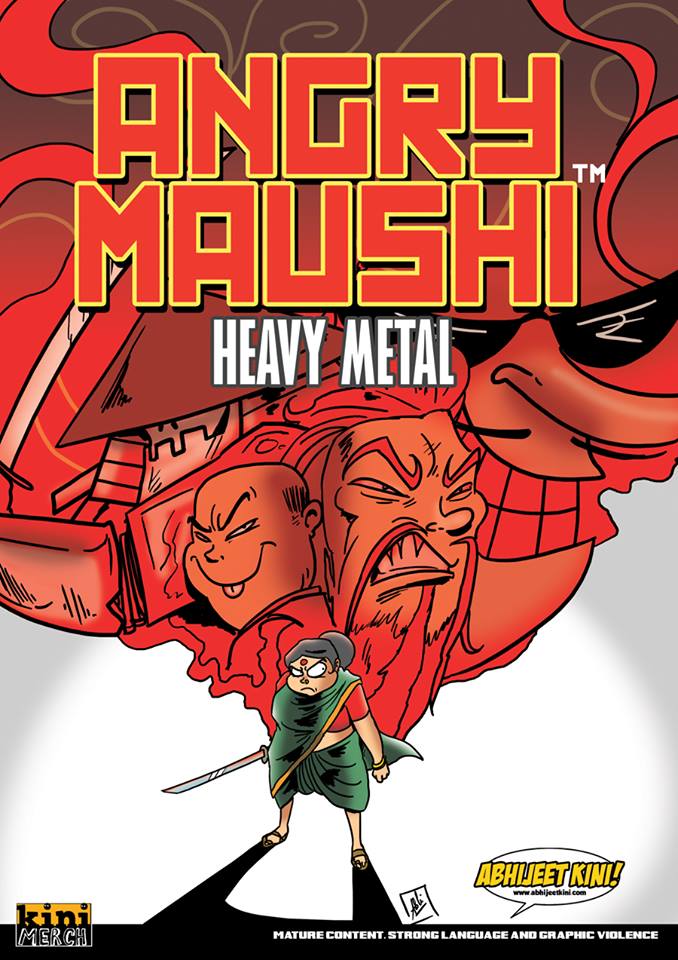 Indian Social Satire has never been handled in such a quirky, obnoxious fashion and laden with choice expletives in Marathi, Hindi and English as it is in Angry Maushi 3 – Heavy Metal.
In 20 odd pages, Abhijeet wraps up the "Guns-Fists-Blades" trilogy about the personification of India's frustration with the System. Angry Maushi fights social injustice in the best way possible, by literally fighting it.
The plot is very straight forward with The President (of India) being taken hostage by Mangabots, designed for protection, which inadvertently(?) go full Dalek. The Mangabots have been made by a Japanese Corporation with investments from a certain Mookish Umbani of Preliance Industries *nudge* *nudge* *wink* *wink* . The dialogues are fresh and hilarious, for example The President, is introduced as "The Man who defines Capital Punishment". This book is a goldmine for such zingers.
Heavy, as the subject may be, this is as light-hearted an approach and the book does not pretend to be anything otherwise. It regularly breaks the fourth wall, has some great visuals, superb action sequences and parodies a lot of famous people.
A superb read.
Buy it here.