Cast: Alia Bhatt, Varun Dhawan, Siddharth Shukla, Ashutosh Rana, Deepika Amin
Director: Shashank Khaitan
Duration: 2 hrs 12 min
Language: Hindi
Genre: Romantic Comedy (U/A)
It is supposed to be a beautiful day. The venue should be decorated with plenty of flowers. There should be glittering lights and rangolis everywhere. The kids are supposed to run hither and thither making merry and calling shots after shots (of cold-drinks of course!) and the young brigade of PYTs should spell glamour clad in their fancy cholis and enjoying the attention of the young mundas present! There should be a clamour and constant sound of chit-chat of those flamboyant and coy aunties who cootchi-coo all those who come in their way and the beautiful coy bride-to-be in a red lehenga and the hunk groom ready to take a giant leap amidst the chanting of the holy mantras. Last but not the least, the delicious food and the choicest of desserts! Yes, this should be the scene of a typical big-fat Indian wedding. And Kavya's father ( Ashutosh Rana ), like any other bride's emotional papaji dreamt of the same. Little did he know that his daughter will bring home a groom, instead of a beautiful lehenga when she will be to her wedding-shopping spree!
When you are in Delhi, you just can't be serious. Thanks to the 'Dil-wale' attitude which makes you enjoy every bit of life without giving much 'Dhakka' to your head. From hot-piping samosas to superb chai at 'delhi-special' tapris, Humpty (Varun Dhawan) made sure that he missed none! A stereotyped care-free munda who roamed on bikes and checked out the kudis in funky suits to oomphy skirts never had enough of life. Fooling around was his prime activity with his chak-de phatte buddies. Alas! Came a ladki, AKA his dulhania!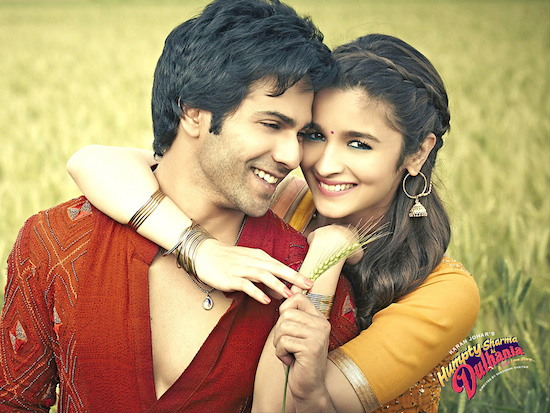 No wedding is complete without 'drama'! This saying was taken too seriously by Kavya (Alia Bhatt) , a typical beautiful punjabi-mundi who is about to get married and amidst all clamor of the swanky preparations, she decides to go to Delhi for her wedding-shopping. Even she was confused when she found who she didn't plan on taking to her marriage – HUMPTY!
With lots of chattering and flirting and jhagda and masti and a lot of romantic cooti-cooing and humming the peppy numbers, the hearts became one, giving the elders a heart-attack. Rest – well it's a bollywood flick and 'Dhishum-dhishum' is an integral part before the hero proudly takes away his dulhania on a train of happiness!
HSKD, a venture of Karan Johar directed by Shashank Khaitan is something that reminds you of the legendary SRK and Kajol starrer DDLJ. The meeting of the hearts, the romance, the vying to get the bride's papa's approval and finally a reunion. Although the story is just like any cliched bollywood flick, it is endearing. The sequences are funny and there is a liveliness in the film that doesn't wear out. The protagonists are drop-dead gorgeous and the film will match the taste of the young hip generation. The cinematography is good and for all those people who are waiting for their love to come to them, this film is indeed a delight for them! The music is foot-tapping and the glitzy wedding sequences are resplendent! The protagonists were zesty and made a cute couple. Alia fitted in her Kavya shoes well and her looks never fail to disappoint. She played a South-Indian in her previous film with elan and now she played a punjaban with equal charm. Her transition from kanjiwarams to patiala kurtis is sweet! Varun is dashing as usual. He has a knack to make jokes without boring the viewers. Sometimes slapstik and sometimes serious, he played his role perfectly. HUMPTY reminds us of that regular guy of Delhi who cares a tuppence of what the world thinks about him. With a big heart and cheeky attitude, he is adorable. The film marks the debut of Siddharth Shukla, a well-known silver-screen actor who plays the would-be groom of Kavya. He has very little to do but with his brawny psysique and good acting skills, he can go far! Ashutosh Rana plays the gusse-wale papaji of Kavya who doesn't mind opening fire at the wedding hall when Kavya professes her love for Humpty. Other characters like Pontu and Shontu tickle our funny bone with their acts and jokes!
The film is dramatic and that of a typical love story. We get a feeling that we are seeing the same story with different characters. It's the only turn-off. However, it's refreshing and zesty in it's own way and definitely a one-time watch if you are willing to spend some indoor, fun time with your loved ones this rainy season! Worth a watch.
Rating : 3/5