Hindi Medium, a satire on the real-life discrimination faced by the Hindi-bolne–wali junta from the English Elitists. No matter of how wealthy these Hindi-speaking folks might be, but the weight of language still puts them down in the eyes of English-speaking snobs. So says the film.
It is the story of a Raj Batra (Irrfan Khan), a simple-minded businessman and a wife-fearing husband. His wife Meeta Batra (Saba Qamar) aka Mithu, is a control-freak deeply infatuated by English-speaking class and will go any limits to make her daughter's life and future perfect. The film is about this continuous impelling of the family to get admission into one of the top schools in Delhi, the changes in their lives, the wannabe transformation and journey of guilt.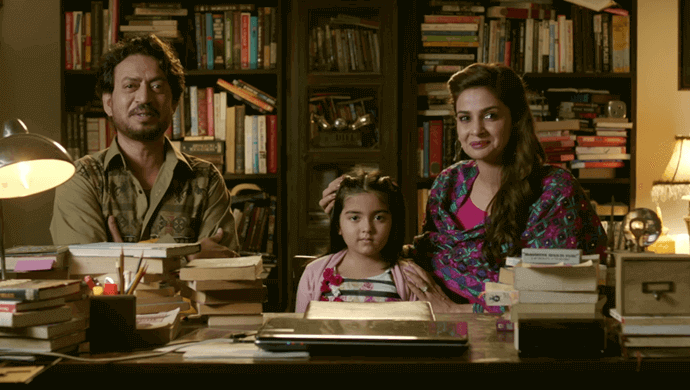 Irrfan is as brilliant as ever. His electric role as a loving family man is enchanting; he is the kind of man who dances to the favorite tune of 'Taare gin-gin', no matter whatsoever. He puts up the movie's spirit when it goes down. The man who can make us endear any script! Mithu, who insists to be called 'Honey', is a typical Indian wife who knows the best for her family, instructs around and involves everyone to achieve this common goal. She is a pleasure to watch even with her melodramatic character. The whole family starts to lead a pretentious life that they do not belong to. The shift from Chandni-Chowk to Vasant Vihar, Hindi to English, lands them in a huge pool of problems that ultimately leads to the point that they have to live in Bharat Nagar, and now pretend as 'BPL (Below Poverty Line)' family to get the admission done. Tilottama Shome and Deepak Dobriyal's performance are more than just side characters. Former as a highbrow and the latter as a warm, helping friend, who is a 'Shudh Gareeb' will win your hearts over.
The film clearly draws a line between Hindi-English speaking masses. "Iss desh mein Angrezi zubaan nahin hai, class hai class". The first half is humours with perfect comedy-timing by Irrfan. It enthrals their journey of transformation & their earnest attempts to blend in with high-class neighbours with continuous bickering amongst the family itself. But the second- half ensues in over-dramatic delving into the script, awakening to the conscience & putting out the essence of the film! Though the movie is stretched in the second- half and though it breaks the bounds of façade to pose the necessary questions, it still lacks the perspective and voice of the most-important focus group- Children. With deep content in poor misconstruction, the movie aims to break the shackles of stereotype. In entirety, Saket Chaudhary maybe not have been able to shape it as well as his content but his efforts are visible in the matter. Watch it for the theme & perfect cast.
Overall Rating: 3.5/5