Theatre me entry mari and dil me baji ghanti of B-R-O-M-A-N-C-E. Bromance is the latest 'it' word! And Bala (Arjun Kapoor) and Bikram (Ranveer Singh) are its epitome. When they met as penniless kids, they instantly clicked and became inseparable. Growing up in a refugee camp was never easy for them as they had to face neglect, poverty and gruesome problems like tackling the pedophile in the refugee camp on Bangladesh border. But it did good as they became tough and angry young men who became the kings of Kolkata's ( then Calcutta) black market trade. Everybody in their town swore by their friendship and unity – even the grave Inspector ( Irrfan Khan) who was their bitter enemy.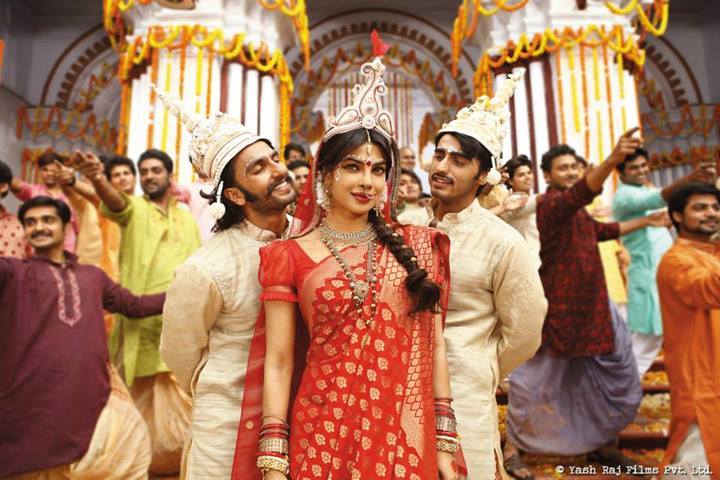 Enter Nandita ( Priyanka Chopra), a sexy cabaret belle who bowled both these young chaps over. The wooing starts and love's 'Ghanti' starts ringing and their friendship is put to test. Who will she be with? It's known after oodles of drama and action!
Gunday is an action flick which will keep the audience glued to their seats. Though the sequences are exagerrated, they will give you a "Sholay" feeling. Friendship is beautifully portrayed by the protagonists and they contribute the charm and livliness to the film. Their dialogues are rustic yet powerful. Priyanka is drop-dead gorgeous and steps into her cabaret dancer's shoes beautifully. Irrfan Khan is perfect as the flustered Inspector who leaves no stone unturned to catch these "Gundays". Last but not the least, Kudos to the child actors who beautifully portrayed the mini Bala and mini Bikram.
Director Ali Abbas Zafar does a commendable job combining the elements of action, thrill, bromance and romance and creating a jhakkas film. The cinematography is very good and the songs are foot-tapping with the "ghanti" song being the best. The location of Calcutta is very picturesque. A very lively film with good storyline, good music and a power-packed performance by these actors! Go for it.
Overall Rating: 3/5