*Spoiler alert*
When Marvel announced Guardians of the Galaxy as a new movie in their second phase, like Korath The Pursuer played by the indomitable Djimon Honsou there was a resounding,"Who?" among the fans of the books and movies alike. Obscure was an understatement for this franchise. I consider myself a semi-literate comic fan and I had never heard of it prior to Marvel's announcement at Comic Con 2012. It was furthermore surprising that James Gunn was announced as its director, whose credit till then was scripting Zack Snyder's remake of Dawn of The Dead, the two Scooby Doo movies, directing the under-rated comedy horror gem, Slither and the depressingly, violent vigilante flick Super, he was as unconventional a choice as this project. This was Marvel Studios' first outing with their Cosmic Verse and the opening weekend pulling in more than a 100 million dollars just proves that for now, Marvel can do no wrong.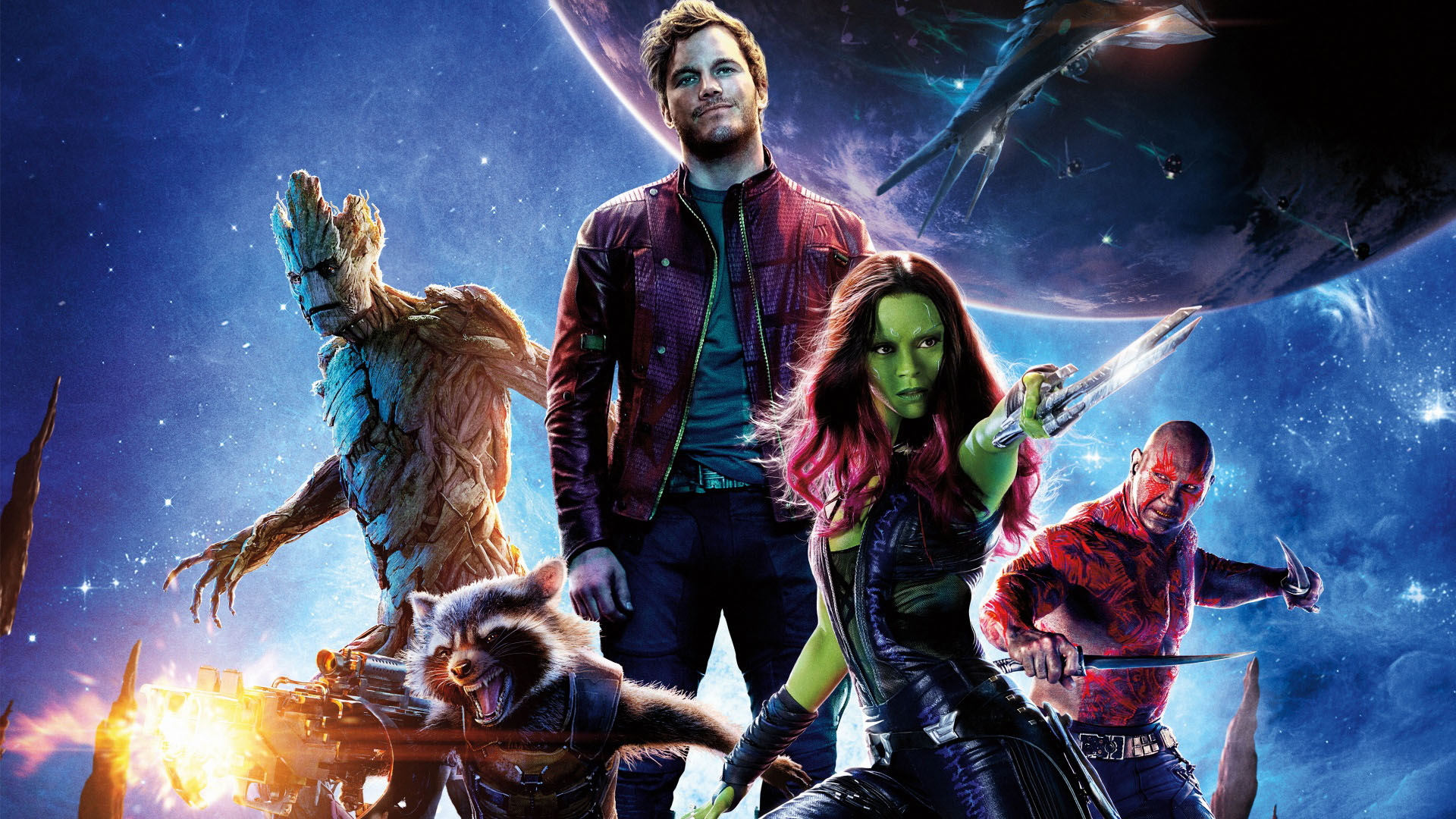 Many space odysseys falter by the studios forcefully involving Earth in their storyline so as to provide an emotional connect and hence compromise with the integrity of what the screenwriters and directors might have envisioned, thankfully this is not one of them. Though the story begins in Terra(that's what they call Earth here) in 1988 with a young Peter Quill abducted by a rag-tag group rightfully called The Ravagers, the rest of the movie takes place entirely in space, on other planets or inside the enormous head of a Cosmic entity(yes that does happen, comic fans may recognize this as Knowhere). I was surprised by how early Thanos makes an appearance in the movie in his full form, also they acknowledge Gamora and Nebula to be his daughters in that very scene, a bold move and thankfully they did not opt for a clichéd route by making Gamora reveal herself to be the Mad Titan's daughter at the end. The soundtrack and its use in the context of their respective scenes deserves a separate review, in my opinion, it does not just serve as novelty but highly compliment and bond as an emotional core to those scenes and characters involved. When you see Peter Quill prance his way across Morag while listening and lip syncing to Redbone's "Come get your love" the entire tone is set for the movie, a very funny, albeit daring opening credit sequence, that you'll wish it were much longer. Tyler Bates score deserves mention here which holds it's own against these very famous tracks aptly titled, Awesome Mix Vol. 1. Bates' score might not stand out among the crowd but has the right amount of emotion and flair to supplement the visuals.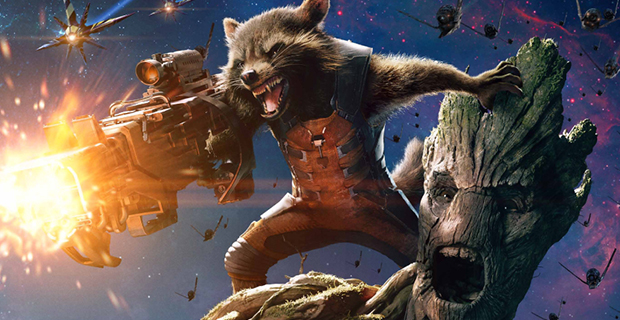 The cinematography is a class apart, the spanning camera work is incredible especially in Morag and it is also the most flamboyant of the Marvel movies, the titled formerly held by the first Thor movie in terms of set design and character design, an emphasis given to creating aliens of such variety that it puts Star Trek to shame, the best part is that most of it is achieved by Practical Make Up,hopefully they get an Oscar nod in this department. I loved Cosmo's cameo, the dog in the space suit, in the comics, he's Russian and his interaction with Rockets are hysterical, but sadly he doesn't speak here. James Gunn quoted Star Wars to be a major inspiration for this movie and you can see that reflected in Knowhere especially one that is reminiscent of the Cantina scene from A New Hope. Nebula has a freakin' arm cut off at a spaceship and escapes in another spaceship from below, Empire Strikes Back anyone? The use of Slow Motion is quite commendable especially in the last act of defeating Ronan, most directors employ this tool to make scenes hyper-cool but Gunn makes it into an integral plot device and its sparing use is genius.The CGI is fantastic, the talking racoon and a 7 foot sentient tree feel as real and interact as seamlessly as their live action companions. The visuals in space can act as a stand alone David Bowie music video and Moonage Daydream was an obvious and apt choice for one of those sequences. I was lucky to view it in a theater where the projectionist knew his job, the lighting was perfect and was the best visual experience I've had yet in any theater. 3D was very impressive, it wasn't just a tool, there was a lot of depth especially during the space battles, there are a lot of them, have raised a bar for sci-fis. Remember how you felt when you first saw the Rebels and Empire face-off in Star Wars, you'll relive those moments here. The Millenium Falcon of the Marvel Verse is the Milano (named after Quill's childhood crush Alyssa Milano) the design of which is really neat, Ronan's spacecraft Necrocraft is something out of HR Giger's designs and looks devilishly beautiful. The weapons and tech aren't very over the top but grounded, and exude a very steampunk vibe. You'll be howling with laughter the way you see Rocket construct some of them and also have a weird fetish by trying to make his team get robotic appendages from varied aliens, which leads me to one of the prime factors that makes this movie stand out rather being termed as another Marvel flick, the dialogues.
The dialogues are some of the wackiest you'll hear.There are off the charts, hilarious one liners with a mix of some classic physical comedy. Whenever you think the dialogues are becoming a bit cheesy, Rocket or Peter say something so uncanny it is almost like they're the voice inside your head and are breaking the fourth wall by saying what you generally say during those groan inducing moments. James Gunn pushes the boundaries of PG,expected from a guy who made a movie called PG Porn, crotch grabbing, a dick joke, who better to deliver it than John C Reilly, and the best of the lot, Rocket's declaration of Quill being his prison bitch being the highlight, oh and you might want to know that the big blue alien who Groot has up by his nostrils is none other than Nathan Fillion. It also has a fair amount of violence, especially Groot and Drax's outbursts tend go to grim places at times, but superb direction and a wonderful score balance it out and if I were a professor at Hogwarts, I would grade it as Exceeding Expectations.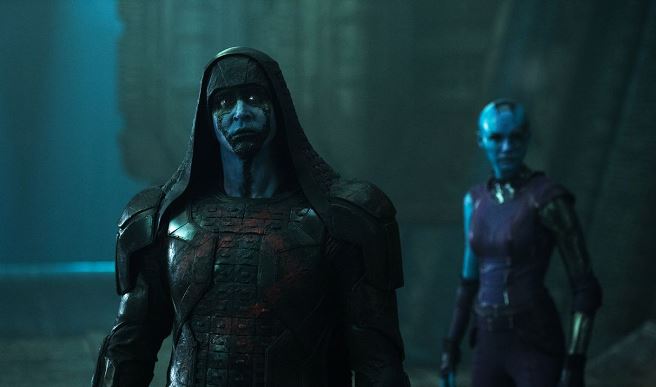 Chris Pratt channels Han Solo and Indiana Jones flawlessly with his lovable goof Andy Dwyer from Parks and Rec mixed in to the equation making his self-declared alias Star-Lord, a soon to be iconic figure. His charm, delivery is in the league of Robert Downey Jr. and Tom Hiddleston and using scene-stealer would be the obvious term if it was not for the fact that Drax The Destroyer(Dave Bautista), Rocket(voiced by Bradley Cooper, who sounds anything but Bradley Cooper), Groot(voiced by Vin Diesel) and Gamora(Zoe Saldana) are just as good. Rocket as the anthropomorphic racoon who's a result of illegal experiments is the demolitions expert of the group, I'm awaiting his eventual confrontation with Tony Stark as Rocket, in the comics, is among the very few who has managed to shut Tony Stark up with his technical wizardry and motor mouth. Groot, the sentient tree-like creature is the heart of the group with his limited vocabulary but astounding body language and nuances captures your soul. Kudos to Vin Diesel who recaptured the magic as the voice of The Iron Giant. Gamora plays the assassin leased by her adopted father Thanos to Ronan The Accuser to do his bidding and it sent to capture Quill's orb that he stole from Morag but the most surprising of all is Dave Bautista as Drax the Destroyer , in his best role yet from his filmography is a complete revelation, impeccable delivery and brilliant comic timing. Lee Pace's Ronan The Accuser plays the primary antagonist as the rogue Kree warlord, disguised as Marilyn Manson, who thankfully we get to see in action before the third act, which is a new for Marvel, Dr. Who's Karen Gillian is almost unrecognisable as Nebula the other daughter of Thanos who has some fantastic fight sequences with Gamora. The supporting cast is a joy to watch too, Glenn Close and John C Reilly play the small roles of Nova Prime and a member of Nova Corps respectively and are quite impressive. I wish Benicio Del Toro had a bigger role as The Collector, but is just there to explain and finally confirm the involvement of The Infinity Stones, the power which gives the bearer to change reality as he pleases, so we're almost sure now that Avengers 3 will be an adaptation of the Infinity Gauntlet storyline. Finally we get to everyone's favorite redneck Michael Rooker, Merle from The Walking Dead and a constant collaborator with James Gunn, he plays the leader of the mercenaries Ravagers, who were responsible for abducting Quill from Earth and in the end learn that were hired by Peter Quill's father whose identity isn't revealed but comic readers will know him as J'son the King of The Spartax Systems, which attributes him being able to survive holding the Infinity Stones and possibly surviving in the vacuum of space.
Guardians does have a few flaws, the villains continue to be one dimensioned characters who have one objective, i.e., lust for power, borrowing from the mold of the antagonists from the previous Marvel movies. I really hope Ultron in Avengers will change this. Also there is a nitpick about them surviving in space with their body exposed, I hope the very awesome, Neil De Grasse Tyson will make a video and tell us why that is plain silly, but again we just saw Thanos and Ronan have a discussion on an asteroid in the vacuum of space so the suspension of disbelief has to be ingrained deep within the viewer. The final act is a little overly dramatic and cheesy(holding hands) but you'll really not complain as you'll be too busy having the time of your life.
The after credits scene is of the most significant one they have made yet. This does not have any repercussions on the future movies but has a very interesting back story. One of Marvel's first adaptations was Howard the Duck in 1986, which was a huge commercial failure. In my opinion, this is Marvel embracing their past and letting the world know how far they've come as being the biggest Studio in the world right now. Also Seth Green is voicing Howard in the cameo.
As far as origin stories go, they do not get better than this, it's one of those movies that you fall in love wholeheartedly, rich in character, action and humour, it is a fitting end to usher in end of Phase Two.
Bring on Age of Ultron and Make Mine Marvel!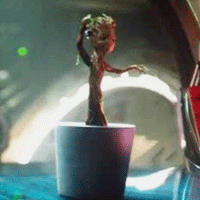 Overall Rating : 4.75/5