Cast: Saif Ali Khan, Kunal Khemu, Vir Das, Anand Tiwari, Puja Gupta Directed By: Raj Nidimoru, Krishna DK Overall Rating: 3/5
Go Goa Gone is 'Dawn of the Dead' married off to 'Delhi Belly'- in short, a mad crazy zom-com. This absolutely refreshing movie muscles enough wit throughout its themepark-like premise, with a subtle message against the usage of drugs underlining the theme. Of all the other adjectives that this film attributes, 'brainless' or 'predictable' are definitely not among them. This novel movie could easily be another addition to the '100 years of Indian cinema' tribute.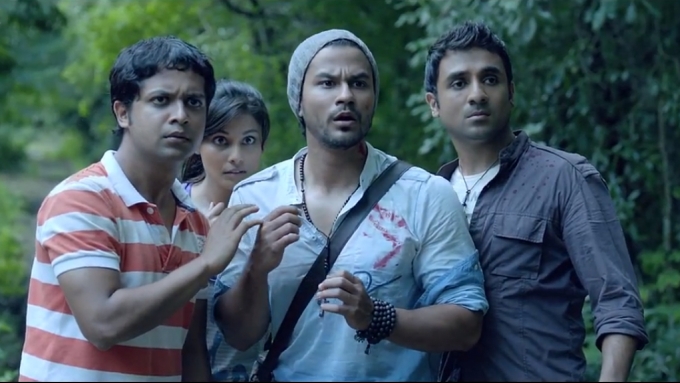 The story is very simple actually. Three friends- Hardik (Kunal Khemu), Luv (Vir Das), Bunny (Anand Tiwari)- leave back concrete jungles and go seeking merriment with Luna (Puja Gupta) at a rave party in Goa, hosted by a Russian mafioso Boris (Saif Ali Khan). Too much booze and drugs later, when the trio rub their sleepy hungover eyes the next morning, they find themselves among zombies and are scared to their wits. Off they run to save their ass, with Boris spelling doom on these uninteresting flesh-chewing creatures.
The movie doesn't score many brownie points in 'scary' as much as it earns for being funny. Just too many one-liners loaded here, some superlatively funny, others decent. The makers Raj Nidimoru and Krishna DK, who constantly amaze by pulling out the unpredictable, have done a pretty good job of desifying the zombie thread, and have installed enough elements throughout the film that's required of this genre. Performance-wise, Saif and Vir have done a good job. It's Anand Tiwari and Kunal Khemu who crack us up the most. Puja Gupta adds cherry to the candy-flossed visuals.
All in all, if you're planning to put your money on this scare/fun-fest, go ahead, for you surely won't be disappointed.