Mindless? Yes, the usual. Grand? Yes. Classy? Yep! Umm… fun? Hell yes!
Paul Walker's death on November 2013 left a huge dent in this franchisal universe, but credits to the screenwriter for revamping the storyline with all the testosterone speed thrills, when sadly, in real life speed had killed. Furious 7 stands proof to how wonderfully well fiction can eclipse tragedy. Watching him play Brian for the last shall definitely drive fans for a repeat watch, if not anything else. And believe me when I say that this film is the classiest addition to the franchise yet.
Seriousness aside, let's now look at how dope a film Furious 7 actually is. It's not everyday that you use 'Fast and Furious' and 'classy' in the same sentence, but hey, things change, and thankfully here they did for the better. The film runs high-octane on greasemonkey action, with the screen going kaboom in the first five minutes itself, and the niche audience the franchise enjoys is sure to lap it full-power for their stars in play.  There's only one law that the film follows – gear it up, drive, collide and combust. Having sucked this knowledge to its last drop, Furious 7 drives home a blockbuster that's sure to blast bank accounts of everyone involved with the film. With Jason Statham the franchise has found its most horrific villain so far, and that's just one of the many bonuses.
Picking up from where Fast and Furious 6 left, the seventh installment introduces us to Deckard Shaw (Jason Statham), the brutish older brother of FF6's villain. Deckard seeks revenge from those who put his brother in hospital, while Dom (Vin Diesel) and team need to find out means to outplay this bad guy.
Outplaying the bad guy is the hard part, as first they have to track him down. And so they seek a gadget that can hack into all smartphones in the world to rescue a kidnapped hacker. This is one among many of scenes that straightaway pull the trigger on logic, but hey, this franchise has defied logic and gravity for years. Why the hell should they embrace it now? There are even dialogues like "Daddy's gotta go to work." Such cliche!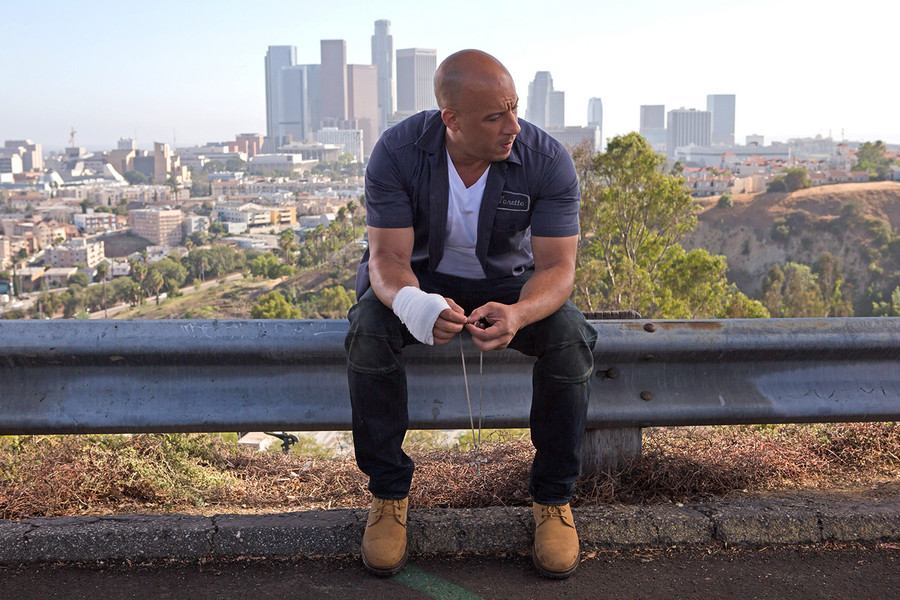 Action sequences are dreamy, and extremely well choreographed. The Statham-Johnson fight scene shall give you your money's worth; it is so ridiculously good. Director James Wan has made use of some awesome production design here, one involves a bus in a mountain road and one seriously insane aerial entrance. You may have seen a glimpse of this action in the movie trailer, but the extended version is full fun. There's another equally well shot party scene in Abu Dhabi, which has Letty in a fight scene with a bodyguard, followed by some crazy car sequences.
For a long time now, we've seen how Fast and Furious films set up events for their next film during the final moments of a film, but not Furious 7. This movie puts brakes to its grumbling machine beasts and lets each character bid adieu to Paul Walker and his character in the movie, which is sweet.
Overall Rating : 3/5