Guys will forget the 'Romance Era' totally for the "BROMANCE Era" is all in. Director Mrighdeep brings forth you Fukrey that is exactly like it's name- 'A total FUCKREY'. It's a typical film of four Delhi over-optimistic, good-for-nothing guys who want to do something and make it big and alas! they take short-cuts too. The guys use their con ,annoying, flamboyant ways to come out of problems and also to create them! However, come what may, they don't leave each other alone and are epitome of besties.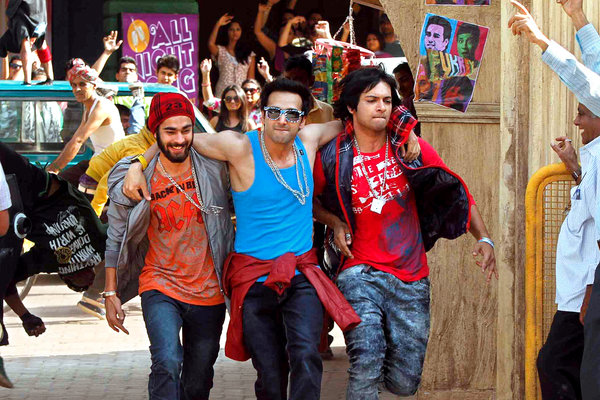 These four guys, Hunny( Pulkit Samrat), Zafar (Ali), Lali (Manjot) and Choocha (Varun) start making quick bucks by winning small lotteries as Choocha, who is a living Kumbhakaran, sleeps and dreams about weird things and his Rajnikant-minded pal Hunny decodes them. Hell breaks lose when these friends get into a tricky situation and need a lot of money in a short period. Their woes increase when they encounter Bholi Panjaban, a not-so-bholi petty hooligan. With her threats and mounting pressure, what will these bros do?
Watch out Fuckrey with all it's jazzy, peppy storyline. The other gals, Priya Anand and Vishaka Singh have nothing to do in the film much but to grace their presence. Hunny is funny with his witty decoding and Choocha is annoying yet funny. Lali is a full of fun and Zafar is all flat over his G (read guitar and not girl!). Richa is superb in her rustic avatar and makes audience laugh with her cocky dialogue delivered in the puurrrppphhect Hariyanvi ishtyle!
The film being from the stable of Faran Akhtar and Ritesh Sidwani, it is peppy on musical front. The film is good for viewing once and is high on comedy. Three cheers- not for the film, or music, or actors, but for their BROMANCE!
3/5