Flipkart is planning to roll out a new 'Image Search' feature on its mobile app to assist fashion shoppers search for a the same or a similar product they might have seen earlier and liked. The feature presently is in the beta stage. Users can simply click a picture or use an existing image on their handset to search for fashion products of same color, style or pattern on Flipkart, stated the company. Not only this, but users may also browse through a range of similar products by directly selecting the product they like on Flipkart.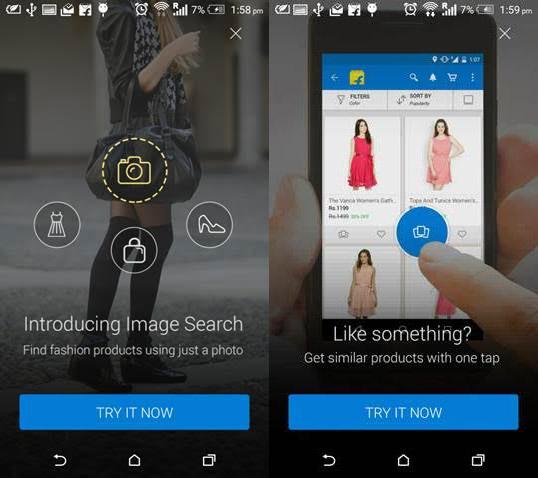 Flipkart's Chief Product Officer Punit Soni said in a press statement that discovering a fashion statement online varies for different users, and is much more complex as compared to other categories. Majority of fashion purchase decisions are influenced somehow by similar products people may have seen earlier. The Image Search feature lets users find exactly or close to what they was looking for, and also substantially reduces the search/browsing time, thus simplifying the whole product discovery and shopping experience.
Flipkart states that 75 percent of their total visitors access the site through their smartphones and that the mobile app dominates the overall visits on their platform. Earlier, Flipkart-owned Myntra took the bold move and shut down their desktop site, becoming mobile only.
In order to pull more visitors on the app, Flipkart had earlier added a barcode scanner which significantly eased looking up for products. The Image Search feature shall only drive more and more users to the app.
Image via : BGR