It's rare to acknowledge a Bollywood sequel that entertains appreciably more than the original first installment, and Dedh Ishqiya is one privileged film to fall under this bracket. Vishal Bharadwaj has artistically shaped the black comedy genre in Indian cinema (as a director and producer both), and director Abhishek Chaubey adds enough intelligence in his work to make it tasteful further for the audience. And then the smart, cunning twist. Wow!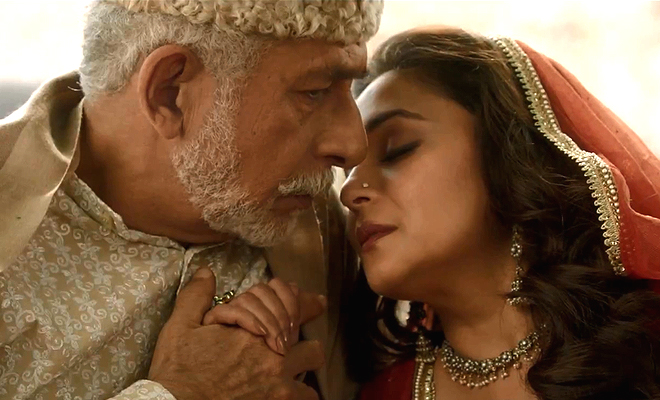 Urdu finds its high rank yet again in the shayaris that emerge every now and then, decorating the narrative. The story's sketched in a fictional town of Mehmudabad, where Khalujan (Naseeruddin Shah) finds himself attracted to a widowed enchantress Begum Para (Madhuri Dixit-Nene), who goes weak in the knees for intelligent lines and lyrics. Babban (Arshad Warsi) is the same old hilarious loverboy who has his eyes fixed on Begum's confidante, Munniya (Huma Quereshi). Begum and Munniya have a past, one which they're trying to escape. And this uncle-nephew team somehow accommodate in their scheme of things, until their own past catches up.
This film cherishes Madhuri's grace and beauty, and the legendary actress is a treat to watch. More so when she proms to the classical. Naseeruddin as the shrewd lover is brilliant. Arshad Warsi follows close and his unapologetically romantic avatar testifies his talent. Huma Quereshi as the no-nonsense girl is good.
Dedh Ishqiya shines is in its eye for details – in the dialogues and the background props and sets. The humor infused is dry and sarcastic, the several punchlines make the repartee fun, and there are too many occasions where brilliant wordplays derive the laughs. Most of these come from Vijay Raaz, who's a splendid role to boast off. It's a pity we don't get to watch this actor much nowadays, but when he does grace the screen, he makes sure he delivers. And how! With Vishal Bharadwaj and Gulzar moulding the dialogues, one can expect a rich blend of fun, wit and lyricism in the colloquy, laced richly in the strands of Urdu. The music, though not as epic as in the first film, does compliment the narrative flow aesthetically. Abhishek Chaubey's direction is commanding.
This film marks the glorious cinematic start for 2014 (Bollywood), and should be enjoyed for the witty one-liners, handsome poetry, expert direction and those really refreshing performances. Entertainment guaranteed cent percent.
Overall Rating: 4.5/5